Paulding-West Cobb Lions Club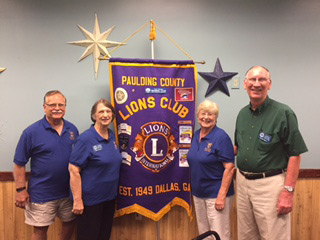 We are an active and growing group of service-minded men and women who are interested in improving our community. While Lions have traditionally focused on helping people with vision problems, today we also help people with hearing problems, provide diabetes education, and many other needs. We try to meet needs of people who are not helped by other resources.
Some of the things we have done lately are conduct vision screenings; provide for eye exams and glasses for people who have no other resources; collect used eyeglasses, hearing aids and used cell phones to be recycled; conduct monthly Bingo games for residents in a local Assisted Living Facility; and participate in local events such as the Paulding County Christmas Parade and Paulding County Public Safety Appreciation Day.
Paulding-West Cobb Lions Club joins with Lions all over the state of Georgia to support the Georgia Lions Lighthouse Foundation and the Georgia Lions Camp.
In addition, the club supports such Lions International Initiatives as providing disaster relief, eradicating measles, and fighting blindness. . We are proud members of Lions International Foundation, with over 1.4 million Lions in over 210 countries throughout the world.
To find out more about our club, visit our website at Paulding West Cobb Lions Club or Facebook page. You can contact us via phone or email: 770-322-4292, .