Paulding-West Cobb Lions Club "Fly the Flag Campaign"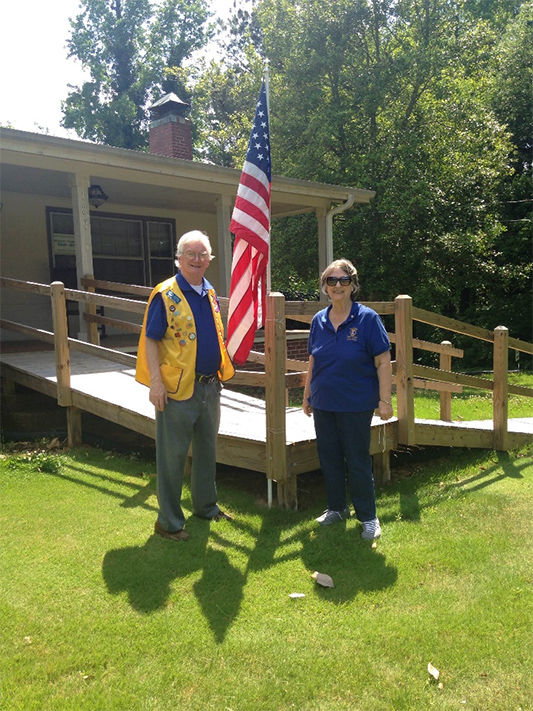 Paulding and West Cobb County merchants have the opportunity to show their patriotism and civic pride through the Paulding/West Cobb Lions Club's "Fly the Flag" program.
Funds raised by the Lions will go to support the sight conservation efforts of the Lions Club, such as providing eye exams, eye glasses, and hearing aids to Paulding and West Cobb residents who have no other resources, as well as other state and local projects such as the Georgia Lions Lighthouse Foundation and the Georgia Lions Camp for the Blind.
For an annual subscription of $40, the Lions Club will place a three-by- five foot American flag at the contributor's location a day prior to 8 specified holidays, such as Memorial Day and the Fourth of July. The Lions will retrieve it after the holiday and store it until needed again.
In addition to eight national holidays, the flag will be hung on September 11 th as part of a national tribute to the men, women and children killed in the terrorist attacks of 2001.
If your business is interested in participating in this program, please contact the Lions by phone at 770-322- 4292 or email at .
The Paulding-West Cobb Lions Club meets at 7:00 PM on the 2 nd and 4 th Monday of each month at Stars and Strikes, 2400 Hiram Acworth Highway, Dallas, GA 30157. We invite you to visit our meetings and then join with us as we serve the needs of our community.
Lion Sandie Castle is ready to mount the flag at Dallas Tire, one of our subscribers.