Paulding-West Cobb Lions Club Welcomes Detective Sergeant Lenny Carr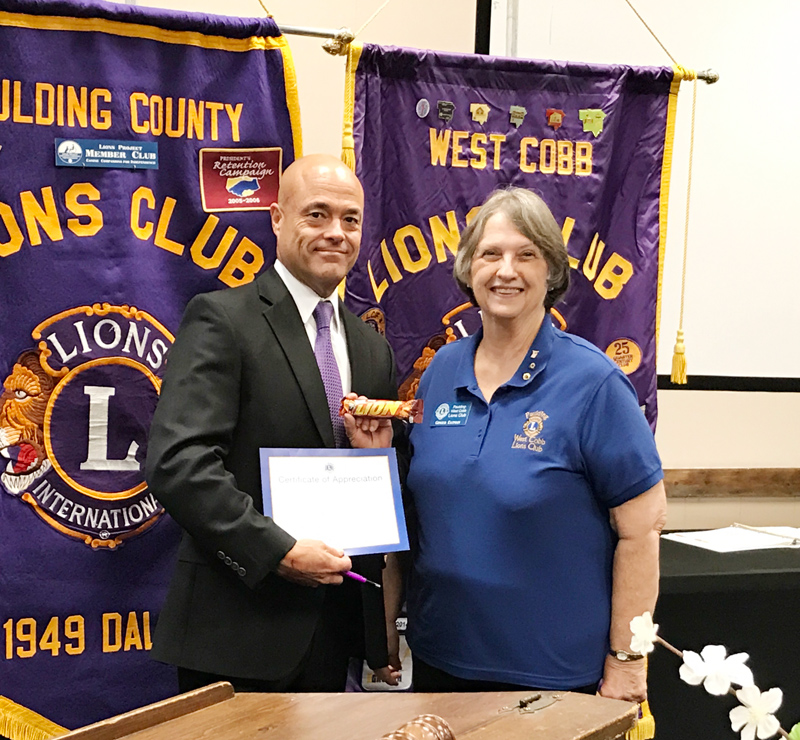 Guest speaker Detective Sergeant Lenny Carr received a warm welcome at the April 10 th meeting of the Paulding-West Cobb Lions Club. Detective Carr spoke about his work in Crimes Against Children and Internet Crimes Against Children for the Paulding County Sheriff's Office. He explained the role the Crimes Against Children Unit plays in protecting the young citizens of Paulding County. It conducts thorough investigations of reported criminal activity where a child has been physically or sexually abused, neglected, or kidnapped and brings the offenders to justice. It also operates a proactive Internet Crimes Against Children department to detect and arrest child predators and purveyors of child sexual abuse materials. The subject matter is difficult to hear, but it is necessary for the community to be aware of current crime trends and ways to help keep our children safe.
Detective Carr also shared information about Paulding Family Connection, an organization which brings together many different organizations within Paulding County to work together to help children and families. He gave each member a copy of the Paulding Community Resource Directory, 2016/2017, which lists all organizations that offer assistance and support to Paulding County citizens in need, particularly children and families.
The Lions of Paulding-West Cobb appreciated Sgt. Carr coming to educate our club. He is also available to speak on these issues with other organizations and can be contacted at the sheriff's office or by email: .
Paulding-West Cobb Lions meet at 7 PM every second and fourth day of the month at Stars and Strikes and welcome all to come and see what Lions are all about.