Paulding-West Cobb Lions Club installs 2017-18 Officers
June 12 was a special night for the Paulding-West Cobb Lions, as the club ends the 2016-17 year and prepares to begin the 2017-18 one.
This past year was a momentous one for the club, as it was year the Paulding and West Cobb clubs merged. During the year, the new club performed eye screenings at events in both Powder Springs and Paulding County. Dozens of people who were in need of assistance were provided with eye exams and new glasses at no cost to them. Among other services, the club supported the Food Pantry Lighthouse and Shepherd's Rest as well as adopting a family at Christmas and providing monthly Bingo games at Bethel Gardens in Powder Springs. As the club continues to grow, we will continue to expand our services, as the Lions motto is "We Serve", and we are dedicated to helping our communities.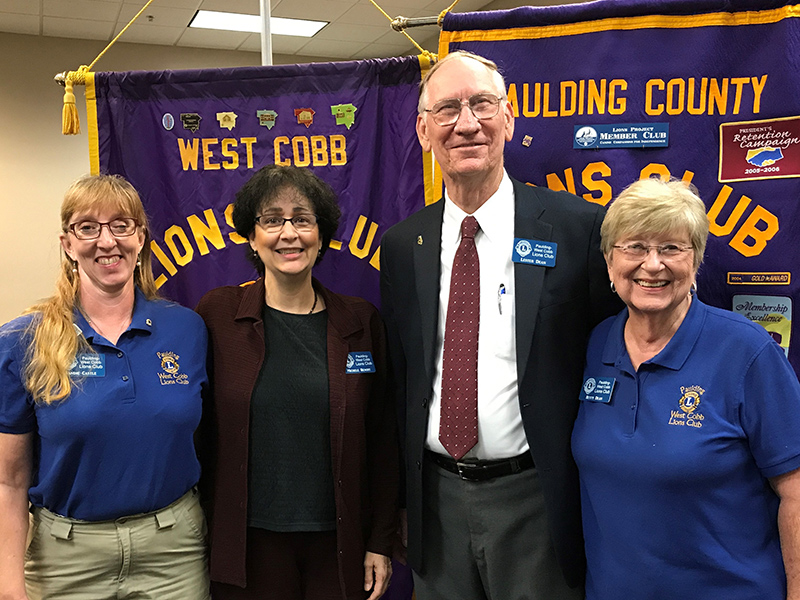 Outgoing President Ginger Eatman presented members with Certificates of Appreciation for their service to the club during the past year. Bob Wagner was named Lion of the Year and Sandie Castle was named Rookie of the Year.
Past District Governor Mark Rice installed the new officers: Lester Dean, President; Michele Benoit Vice- President; Betty Dean, Secretary; Sandie Castle, Treasurer.
To find out more about our club, visit our website at Paulding West Cobb Lions Club or our Facebook page. You can contact us via phone or email: 770-322- 4292, .