DALLAS NATIVE RECOGNIZED FOR STUNNING CHALK ILLUSTRATIONS AT SCAD'S 36th SIDEWALK ARTS FESTIVAL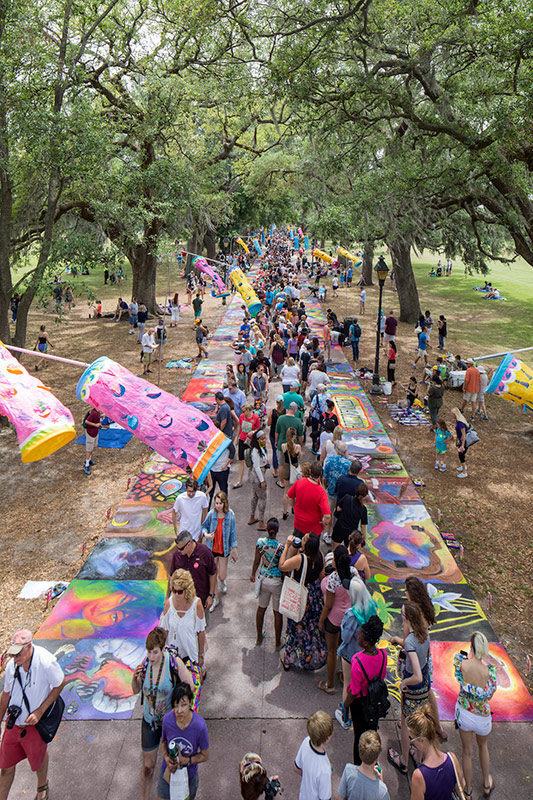 SAVANNAH, Georgia — May 1, 2017 — Savannah College of Art and Design (SCAD) Motion Media Design student Kelsey Hawkinson, of Dallas, and her team recently claimed a top honor at the university's annual Sidewalk Arts Festival. On Saturday, April 29, SCAD students transformed Forsyth Park in Savannah, Georgia into an outdoor art gallery with hundreds of vibrant, hand-chalked sidewalk squares.
In its 36th year, the Sidewalk Arts Festival is a SCAD Family and Alumni Weekend tradition that unites SCAD students from across over 100 degree programs from incredibly diverse spectrum of chalk art inspired by distinct styles, backgrounds, interests, cultures and disciplines. The imaginative, family-friendly event has become synonymous with spring in the heart of Savannah's historic district and draws nearly 50,000 visitors each year. In 2010, the university expanded the festival to its Hong Kong campus, a demonstration of SCAD's on-going commitment to public art globally.
"If you want to know why everyone loves SCAD, come see it for yourself at the SCAD Sidewalk Arts Festival. This springtime celebration – one of our oldest traditions, dating back to 1981 – draws the community together with every generation of the SCAD family," said SCAD President and Founder Paula Wallace. "Students of the past, present, and future convene for a joyful day of playful expression, laughter, and chalk-stained hands as fresh today as the first time we brightened the sidewalks of Bull Street 36 years ago. Sidewalk Arts Festival truly represents the best of SCAD!"
This year, Sidewalk Arts brought together more than 900 SCAD students, alumni and prospective students, who competed individually and in groups for more than $10,000 in prizes. A panel of judges selected winners for various categories, spotlighting exemplary work. The imaginative creation of Hawkinson and her team, which depicted an underwater scene, earned the "Student (Group) 1st Place" honor.
Two top specialty awards were given for the 2017 competition, the "Spirit Award" and the "SCAD Landmarks Award." "Spirit Award" competitors were asked to incorporate SCAD's mascot, Art the Bee, while "SCAD Landmarks Award" competitors were asked to showcase a buildings from one of SCAD's four campuses located in Savannah, Atlanta, Hong Kong or Lacoste.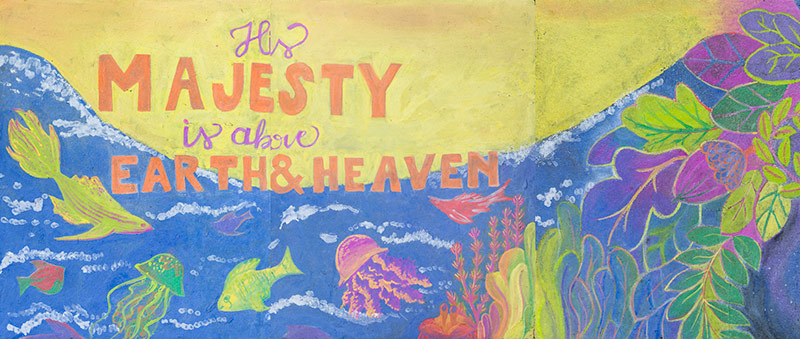 SCAD: The University for Creative Careers
The Savannah College of Art and Design is a private, nonprofit, accredited university offering more than 100 academic degree programs in 43 majors across its locations in Atlanta and Savannah, Georgia; Hong Kong; Lacoste, France; and online via SCAD eLearning. SCAD enrolls nearly 13,000 undergraduate and graduate students from all 50 U.S. states and more than 100 countries. The innovative SCAD curriculum is enhanced by advanced professional-level technology, equipment and learning resources, as well as opportunities for internships, professional certifications and collaborative projects with corporate partners.
In 2015, the prestigious Red Dot Design Rankings placed SCAD in the top four universities in the Americas and Europe. Career preparation is woven into every fiber of the university, resulting in a superior alumni placement rate. In a study of Spring 2015 SCAD graduates, 98 percent were employed, pursuing further education, or both within 10 months of graduation. For more information, visit the official SCAD blog.