New CASA Volunteers Sworn Into Advocate for Children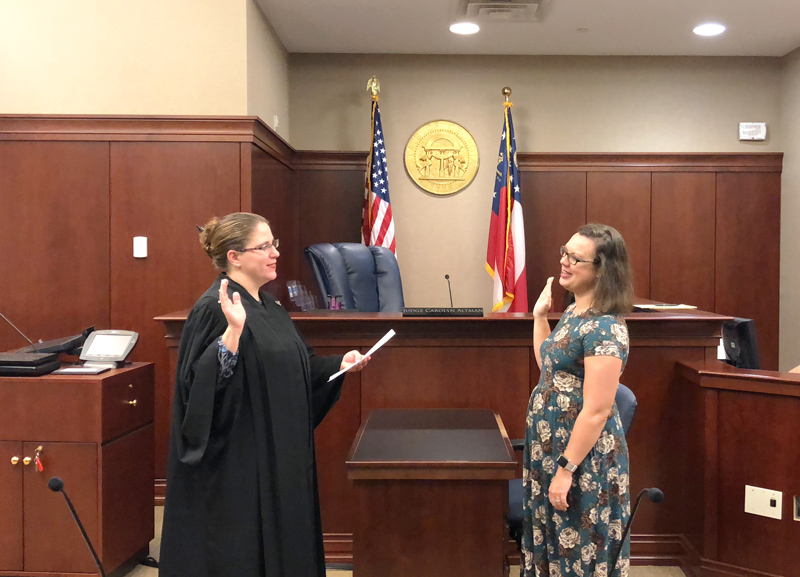 Dallas, GA—Paulding CASA is proud to announce 11 new CASA's have been sworn in! On September 19, 2018, the Honorable Carolyn Altman swore in 10 CASA volunteers and another CASA volunteer was sworn in on October 2, 2018, CASA's are—Court Appointed Special Advocates for abused and neglected children.
Family, friends and the CASA Team gathered at the Paulding County Chamber of Commerce to witness the volunteers take an oath promising to advocate for the best interest of children placed in the custody of the Department of Family and Children Services.
The newly appointed CASA volunteers join 66 other dedicated community members who have been specially trained and are advocating for foster children in the county's juvenile dependency court system. As officers of the court, they ensure that the children's needs are recognized and their best interests are considered both in the courtroom and in the community.
CASA volunteers are asked to meet with the child they are advocating for regularly and are authorized to interview people in the child's life such as social workers, attorneys, and teachers. They attend court hearings with the child and report their findings and to the judge.
"Not just anyone can be a CASA. It takes very special people with a heart for children and the courage to stand up for what is best for them. Our CASA's volunteer their time to make a difference in a child's life." said Mrs. Christy Wilson, who is the Executive Director of CASA Paulding www.casapaulding.org. "Many times our CASA will be the only consistent adult in the child's life while in foster care. Our volunteers care deeply and advocate for each child until the case is closed, and the child is placed in a safe, permanent home." CASA of Paulding County served 283 children in 2017. CASA Volunteers complete 30 hours of classroom training, 10 hours of courtroom observation, clear an extensive background screening, and must be 21 years of age.
The next advocate training session for CASA Paulding will begin soon! If you are interested in learning more about becoming a CASA volunteer and the rewards that come along with serving as the voice of a child, please contact Rachel Lundy- Advocacy Training Coordinator at or 770-505-0065. For more information about casa visit www.casapaulding.org or follow the Paulding CASA Facebook page.
The CASA Paulding Program is a member of the National CASA Association, a network of more than 900 CASA programs serving children in 49 states and Washington DC.