Under the Gold Dome…A message from Rep. Micah Gravley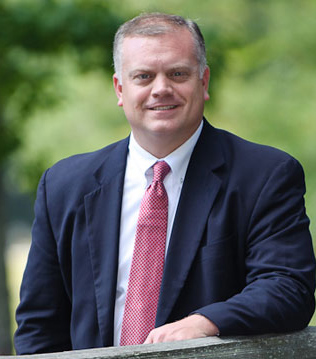 Greetings from under the Gold Dome!
Another week has come and gone on Capitol Hill as we have successfully completed eleven legislative days. This week, we passed several pieces of legislation on the House floor, including the Amended Fiscal Year 2019 budget. We also set an adjournment resolution that sets the legislative calendar for the remainder of our time on Capitol Hill.
The first vote of the 2019 legislative session came in the form of House Resolution 1 on Wednesday, February 6. This bipartisan legislation honors former Governor Nathan Deal and his legacy by naming the new state appellate judicial complex, which will house our Georgia Supreme Court and Georgia Court of Appeals, the "Nathan Deal Judicial Center." This is a fitting tribute to Gov. Deal as he is known throughout the country as a leader on criminal justice reform initiatives. Many of his policies and criminal justice reform models have been adopted by other states.
Friday, February 8, 2019, brought the passage of the 2019 Amended Fiscal Year Budget, House Bill 30, also known as the "baby budget." After weeks of Appropriation meetings, our committee submitted recommendations, which prioritizes school safety, education, healthcare and assistance for those in need of emergency relief following the devastation of Hurricane Michael.
The 2019 amended FY budget also included passage of the $35 million for the Paulding County Aviation Academy. I would like to thank my colleagues in the House for recognizing the importance of this funding which will benefit our great state and especially our district.
Hurricane Michael Recovery
Hurricane Michael ravaged Southwest Georgia last October resulting in approximately $2.5 billion in losses within the agriculture and timber industries. As these industries are critical to our economic wellbeing the AFY 2019 budget addressed relief efforts through reallocation of funds in the baby budget. This includes $10 million for emergency disaster relief to aid our farmers in southwest Georgia, building upon the $55 million that was appropriated to the Georgia Development Authority (GDA) during the 2018 special session in November. GDA, thus far, has approved 124 of 412 loan applications, which means nearly all $55 million approved during Special Session has been used. I will keep you updated on how we plan to move forward with disaster relief assistance.
Education Funding
Education continues to take priority as the AFY 2019 budget allocates 55 percent, or $238.6 million, of the total new funds to be dispersed for our state's growing educational needs. The spending changes are as follows:
$69.4 million to provide school security grants of $30,000 for each of the 2,314 school facilities.
$38,000 in this year's amended budget to provide security to the state's FFA- FCCLA centers when students are present.
$1 million to the Georgia School for the Blind and Georgia School for the Deaf to purchase new generators for residential students during severe weather.
2019 AFY continues to fully fund Quality Basic Education (QBE).
$8.4 million for the Department of Behavioral Health and Developmental Disabilities to address mental health issues in Georgia high schools.
Healthcare Funding
All Georgia citizens deserve access to quality healthcare. The House approved the version of the AFY 2019 budget provides the following:
$1 million in state funds, which matches $1 million in federal funds to analyze and recommend new Medicaid waiver options.
$35.2 million to provide Medicaid coverage for enrollment growth, gene therapy drug coverage, Medicare Part B premiums and Part D Clawback payments.
Miscellaneous
As funding for education and healthcare remain crucial to our overall wellbeing, the amended budget also allocates additional funding to various areas in which we need to improve. Including but not limited to:
$3.5 million for the Georgia Student Finance Commission to assist students in the Dual Enrollment Program.
$26,000 for the Engineer Scholarship Program
$2.9 million from new lottery funds to meet the projected needs of the HOPE Scholarship program.
$9.8 million in additional funds to address the 7.1 percent increase in utilizing the Out-of-Home Care program.
$790,000 for the Substance Abuse Prevention program to fight the growing opioid epidemic.
$490,000 in one-time funding to kick-off the first full year of the new Atlanta- region Transit Link (ATL) Authority, which is a regional transit governance structure that coordinates transit planning and funding and oversees all Metro Atlanta transit activity, including planning, funding, and operations.
Last week, the General Assembly also adopted our final adjournment resolution that sets our schedule for the remainder of the 2019 legislative session. Legislative Day 40 will take place on Tuesday, April 2. Now that we have set our deadline, the hurried pace will continue to increase. We will aggressively work to ensure that we tackle issues of most importance for the betterment of our great state.
Firefighters Recognition Day
Last week, we welcomed Firefighters from across Georgia to the People's House. I always enjoy Firefighter Appreciation Day at the Capitol and was honored to have my own family and constituents in attendance, my brother-in-law Captain Truman Oetting, Uncle Roger Leggett, Lydia Hallmark, Cathy Helms, Firefighters Richardson and McGowan, and Douglas County Fire Chief Scott Spencer.
It was a special day and it was appropriate to remember and recognize the life of Firefighter Frank Martinez, who, along with his brothers and sisters in the fire service, fought until the end for cancer coverage in Georgia for all firefighters. So many have lost their lives in the service of their fellow citizens, protecting life and property. We honored their memory and celebrated the service of courageous men and women serving counties, cities, and communities across Georgia. It was a good day.
Be on the lookout for future updates regarding your government at work! If you need anything at all, please don't hesitate to contact me anytime. It is a pleasure and honor to serve you as we stand together in preserving our conservative Georgia values.
Micah Gravley
Capitol Office
415 State Capitol
Atlanta, GA 30334
404.463.8143 - Office