State Rep. Micah Gravley, R-Douglasville Chamber's August keynote speaker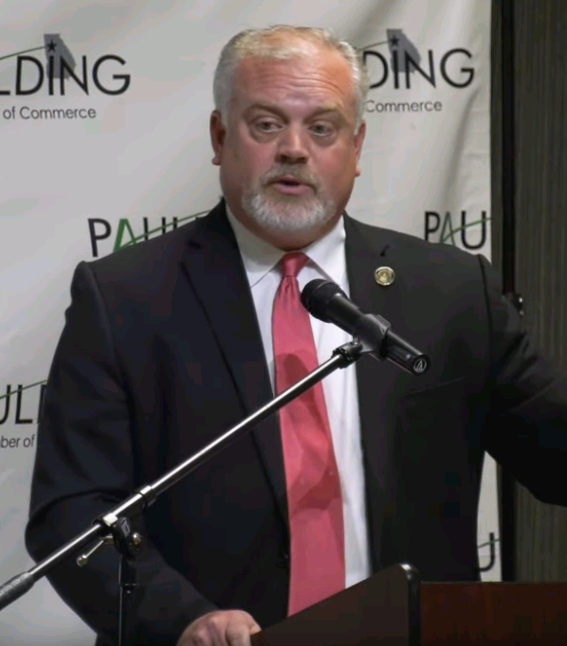 State Rep. Micah Gravley R-Douglasville, whose district includes parts of Douglas and Paulding counties, was the keynote speaker for the Chamber's August luncheon event. Gravley spoke about his years-long quest to pass the Hope Act, which allows registered patients in Georgia to obtain medicinal THC oil.
During the 2019 General Assembly, Georgia's Hope Act, aka HB324, had been passed by the Senate with only eight "nay-sayers" on the Friday that preceded Sine Die. Lawmakers ping-ponged the bill between Senate and House conference committees for some last-minute negotiations, which also engaged Governor Brian Kemp.
Georgia's General Assembly approved compromise legislation sponsored by Gravley, to allow up to six private companies to be licensed to grow marijuana and use it to manufacture the medicinal oil.
Georgia law allowed patients with 16 specific conditions, including cancer and seizure disorders, to possess the drug but provided no real way to obtain it. HB324 provided the missing piece needed by Georgia patients to avoid exposure to legal conflicts with federal law.
Gravley told Paulding business leaders last week that what drove him the most to get the legislation passed was the thought of how would he feel if it was his own child who could be helped with access to the oil?
He also stressed that there is no link between this and any effort to establish recreational use of marijuana in Georgia. Pharmacies will initially be allowed to sell the oil, though a state oversight board would have the authority to allow other private sellers, the bill states.
Since the law was passed the process to establish the ways and means to get medicine to registered patients has been ongoing. Gravley said the number of registered patients is encroaching on about 13,000 and will no doubt see a spike in this next year with the law in place and means of distribution established, and he estimates that number could rise it as high as 25,000.
"We're in the middle of vetting all of the commission members; we've had a great interest in serving on the commission," Gravley said. Gravley said the office of the Lt. Governor is conducting interviews to find appropriate members who can make the kinds of decisions that are required.
"We want to make sure that those individuals that get on this board are aware of the amount of work required in a short amount of time. We also want to make sure they understand this appointment is vital to the success of this particular industry and the workload is going to be incredible. These folks are going to be tasked with overseeing who's going to get these licenses. And these licenses are going to determine for tens of thousands of families in our state, that they get safe oil."
After licensees are approved, the process from 'seed to sale' to provide the oil to registered patients in Georgia will take about 12 months, Gravley, said.