Wellstar Paulding Hospital Leader Honored by Georgia Women's Legislative Caucus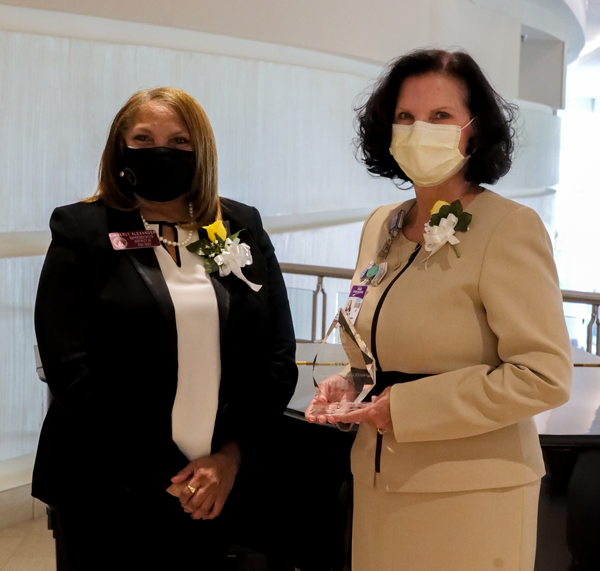 Hiram, Ga. (May 4, 2021) – In honor of the high-quality care given to thousands of people with COVID-19 at Wellstar Paulding Hospital, the Georgia Women's Legislative Caucus recognized as one of the hospital's leaders. Georgia Rep. Kimberly Alexander of District 66 presented the Nikki T. Randall Servant Leadership Award to Vicky Hogue, vice president of Patient Services & chief nursing officer.
"We appreciate all frontline workers in the community and know that working and caring for others during this time is a sacrifice," said Rep. Alexander, who served as co-chair for the Georgia Women's Legislative Caucus and nominated Hogue for the award. "I selected Vicky in acknowledgment of her hard work and achievements during the COVID-19 pandemic."
Typically presented at the Georgia Capitol, the award was presented virtually to Hogue this year due to continued precautions related to COVID-19. According to Rep. Alexander, the Nikki T. Randall Servant Leadership Award was named for the first African-American female elected to the General Assembly from middle Georgia. The award seeks to celebrate the exceptional leadership and service of women in their communities.
Vicky Hogue's Role During COVID-19
Hogue, a 40-year critical care nursing veteran, was honored for dedicating nearly every waking hour since last March to the fight against COVID-19. She has prepared nurses to provide compassionate care, advocated for safe practices in the community, and worked long hours administering vaccines.
In March of 2020, the nursing leader had the foresight to implement evidence-based guidelines to ensure patients would have competent nurses at their bedsides throughout the pandemic. Before the pandemic surged, Hogue began to train skilled surgical and post-operative nurses to work alongside nurses in the intensive care unit (ICU).
She also advocated for the community to adopt practices to slow the spread of coronavirus. Throughout the pandemic, nurses in Wellstar Paulding's ICU cared for an average of 20-30 patients with severe COVID daily.
"We really needed help encouraging our community to wear masks and follow CDC guidelines because our ICU exceeded capacity," Hogue said.
When the time came, she was trained to administer the vaccine and volunteered many hours to vaccinate nurses so they could more safely care for patients.
During the years prior to the pandemic, Hogue has advocated for nurses at the local, state, and national levels and led the team that designed the modern replacement Wellstar Paulding Hospital, which opened in 2014.
ABOUT Georgia Women's Legislative Caucus
The Georgia Women's Legislative Caucus is a bipartisan organization established in the early 1990s. The members strive to provide support for women state legislators and their legislation, increase the participation of women in all areas of government, support legislation helping women, children, and families, and review legislation and budget appropriations affecting women.