16th Annual "Battle of Paulding" In Memory of Coach Ken Phillips was played on Friday, October 2nd with PCHS hosting EPHS. East Paulding High School was given the revolving "Battle" trophy on October 2nd with a 35-21 victory over Paulding County High School. This is the 2nd year for the "Battle" game with East Paulding High School.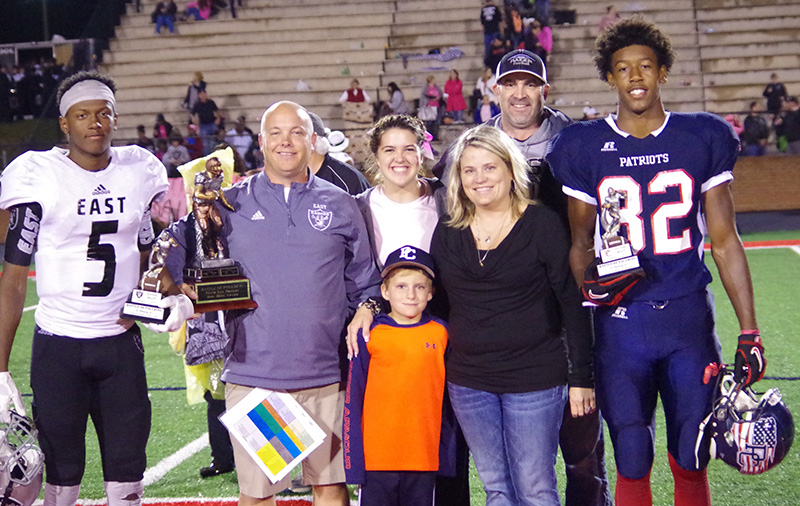 Front Row L to R: EPHS MVP #5 Jalen Browder, EPHS Head Coach Jon Lindsey (he also played football under Coach Phillips), Kent Gresham, Kenelle Phillips Gresham & PCHS MVP #82 Antonio Golden. Back Row L to R: Kyler Paris & former player and life-long friend Ben Paris
A brief history of how the Battle came about in Paulding County. The "Battle of Dallas" was established in 1999 between East Paulding High School and Paulding County High School to honor Coach Ken Phillips. Coach Phillips passed from this life on August 7, 2005 (his grandson, Kent, was born 3 years later on August 7, 2008). When the "Battle of Dallas" tradition began, the district had only two high schools. The Battle of Dallas was played from 1999 – 2007 with Paulding County High School versus East Paulding High School. Since the district has grown to five high schools, the name changed to the "Battle of Paulding". In 2008, The "Battle of Paulding" was established to carry on the legacy of Coach "Big Daddy" Ken Phillips and his beliefs about the game of life. "Big Daddy," as his players lovingly referred to him, was head coach for a record 90 games at PCHS and led the program to its first winning season in 1980. His tenure at Paulding was nine seasons (1977-80; 1985-89), a mark no one in the history of the program at PCHS has surpassed. In August of 2005, the field house at Paulding County High School was named in honor of Coach Phillips. He taught life lessons and touched thousands of lives in a way that made everyone around him a better person. At the end of every football game, win or lose, he always told his boys to go home and tell your mom and dad you love them. Paulding County teams continue to honor "Big Daddy's" memory by carrying on life-long traditions he established years ago. Coach Phillips has left a legacy in Paulding County that will live on for years to come.