During last week's work session Hiram City Council members prepared for the regular meeting scheduled for November 10th. Two public hearings are also scheduled on that date.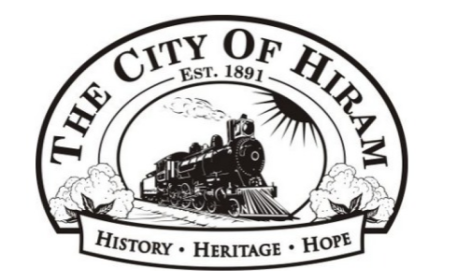 Chris Pike provided an overview of the proposed amendment to Chapter 12, Article II, Business Occupation Taxes ordinance, which provides for the process and changes associated with using gross receipts and/or number of employees-method of calculating Occupation Tax and review of the recommended Tax Rate Tables. The Public Hearing and adoption of the draft ordinance and tax rate tables will be on November 10th regular session.
Jody Palmer, director of Public Works/Zoning Administrator reviewed a Letter of Intent to annex properties located at 2475 Hiram Douglasville Hwy and three northerly adjacent properties. The Public Hearing and consideration for approval of the annexation will also be on the November 10th regular session. Palmer then provided an update on the Hiram Sewer Project which is in the last phases of connecting to the Lift Station. The Lift Station has been tested successfully, Palmer said, and Haran construction is expected to finish the connection and be able to test within the next few weeks. Palmer also provided an update on the Main Street Improvement project which, he explained, is making preparations by putting up the erosion control fencing and marking the project/construction easements along Main Street. Palmer then provided an update on the South Forty Stormwater project which has reached the phase of talking to property owners about construction easement and purchases for detention pond requirements. Upon completion of these discussions, the construction bid will be ready to be advertised, Palmer told council members.
And finally, Palmer reviewed the Nebo Road Paving Project Bid tab. This contract will be on the November 10th regular session agenda for consideration, he said.
Hiram Police Chief VandeZande reviewed the Hiram Police Department's purchase of five laptops that will be used to replace one out-of-date laptop and provide new laptops for the four new vehicles. This purchase will be funded with Police SPLOST and will be on the November 10th agenda for consideration, VandeZande said.
Chayton Pabich and Rachel Willis, representing Kairo's Players Classical Performance group, addressed the council and requested to use Ben Hill Strickland Sr. Memorial Park's Amphitheater for a performance of Shakespeare's "A Midsummer Night's Dream" in March of 2016. Christopher Jones, Help for Our Humanity, requested a sponsorship for advertising on the city's digital signs for the "Help for the Humanity Corporation's Fall Festival" being held on November 14th at Earl Duncan Park in Dallas.
Hiram City Clerk Cynthia Geyer presented the Paulding Board of Realtors' request for consideration of an annual contract to reserve The Events Place for their 2016 monthly General membership and Education meetings and Mayor Doris Devey discussed the lighting of the Hiram Christmas tree this year. The Main Street project will make it difficult for a large event to happen in the downtown area. Devey planned to speak with the Old Towne Hiram Business Association and review other possibilities.
HIRAM ELECTIONS
This week is busy at the polls for Hiram voters as there are four races being decided in November.
Among those the city added a special election to fill Council Post 3 being vacated by Teresa Philyaw who challenges incumbent Mayor Doris Devey. Philyaw's candidacy required her to resign her council seat. The special election was held this week for the purpose of filling her unexpired term, as required by state law and the city's charter.
Qualifiers for the Post 3 council seat are Jeff B. Cole and Jerry W. Duncan. Both men along with Philyaw have cited the desire to see more restraint applied to council decisions to utilize reserve funds for city projects. Other Hiram races include Incumbent Post 1 (At-large) Councilman Prather Rollins who is challenged by Frank Moran and (Incumbent) Council Post 2 (At-large) Kathy Bookout will face qualifiers Terrance White and Billy Grant.
Rollins and Bookout came on board in 2011 with newly-elected Mayor Jack Paris, who resigned and was replaced by Ms. Devey after she won a special election in 2012.
Hiram's council will also convene in 2016 with a new city manager. Robbie Rokovitz was named as city manager in August of 2012 after the council changed its charter to allow for the addition of a city manager. Rokovitz stepped down in September of this year, opting to take a job offer in the private sector.
The council's next work session is scheduled for November 17, at 6:00 p.m.