4-H Visits Nebo Elementary School Open House 2018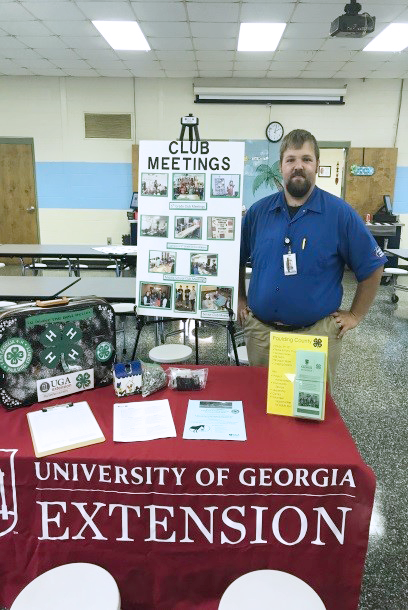 On Monday, July 30, 2018, from 2-4pm, The UGA Extension - Paulding County 4-H attended Open House at Nebo Elementary School for the 2018-2019 School Year. Coordinated among the two newest 4-H program assistants, LaRhonda Likely and Ratasha Middleton, the turnout was a success as parents and students signed up to learn more about the program.
With a setup in the school's cafeteria, the program assistants were able to greet incoming 4-Her's, volunteers, and alumni. One, in particular, Dakota Crider, participated in 4H from 5th-12th grade and competed in DPA for the dairy food category. Impacted by the profound life lessons and skills that 4-H offered, Mr. Crider has continued his passion for cooking and now serves as one of the cafeteria staff members at Nebo.
"I was so intrigued by the conversations held with former 4H alumni members. Hearing their experiences makes me excited about the upcoming year and wanting to continue the legacy in laying the foundation to empower our future leaders," says Ratasha Middleton, Program Assistant.
In addition, the 4-H Program Assistants also welcomed and introduced the program to potential 5th-grade Cloverleaf members and their parents as well as to future students that are already showing an interest at lower grade levels. "Hearing the kids at the lower grade levels showing an interest in the program really touches my heart. It keeps us mindful as to just how much the program is both needed and wanted and is a vital impact on the community as a whole" says LaRhonda Likely, Program Assistant.
Among many of the programs offered, there was a huge interest in Horse & Pony club, Archery, and BB Gun & Shotgun. The staff members have their work cut out for them as they prepare to serve hundreds of inquisitive little minds. However, they are ready, able, and committed to "Making the Best Better!" 4-H is offered for 5th – 12th graders in Paulding County. To learn more contact the Paulding County Extension office at 770- 443-7616 or visit our website at www.ugaextension.org/paulding.