Paulding County 4-H'ers Compete for Coveted Master 4-H'er Title
Competing against their peers across the state, fifty Georgia 4-H members ultimately earned the coveted title of "Master 4-H'er" at the annual Georgia 4-H State Congress, held July 24-27 at the Crowne Plaza Ravinia in Atlanta.
State Congress symbolizes the end of a year of hard work and dedication by Georgia 4-H youth. Students select an area of study, give an oral presentation before judges at their respective District Project Achievement (DPA) and participate in service and leadership events in their communities. Regional first place winners compete at the state competition in a variety of categories including history, horses, performing arts, and public speaking. Each student gives a 12-minute presentation before expert judges and prepares a portfolio detailing their research, leadership and service projects.
No matter what their age, people learn best through doing, and this is the heart of Georgia 4-H, said Arch Smith, state 4-H leader of Georgia's largest youth leadership organization. Paulding County 4-H had multiple Senior 4-H'ers attend State Congress this year and we are proud of all of them for earning their way to state with Project Achievement! Those who competed are:
Juliette McKinley - Master 4-H'er, Horse
Erin Gilroy - 2nd Place, Companion Animals
Lydia Kenny - 2nd Place, Family and Resource Management
Nicholas McKinley - 2nd Place, Robotics
"We had some really excited kids who will get to go to National 4-H Congress and we had some who were a little disappointed. But what is most important they have gained some valuable skills through Georgia 4-H Project Achievement," said Craven Hudson, one of the Georgia 4-H state specialists who organize the event. "Either way, these students take away many memories and they take away many life skills from Georgia 4-H."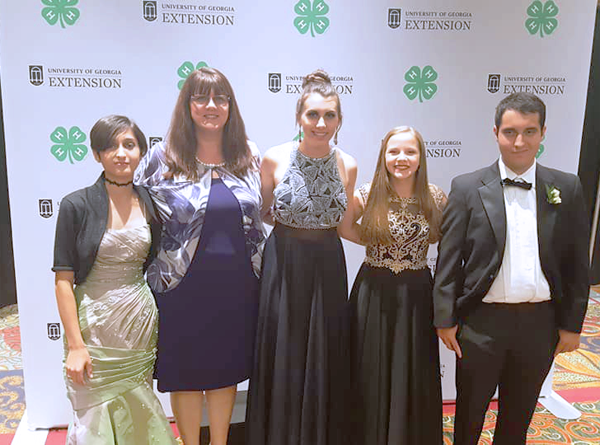 Pictured left to right are: Juliette McKinley, Kathleen Gilroy, Paulding County 4-H Program Assistant, Erin Gilroy, Lydia Kenney, Nicholas McKinley.