Paulding County Master Gardener Extension Volunteers and Community Partners Recognized for Accomplishments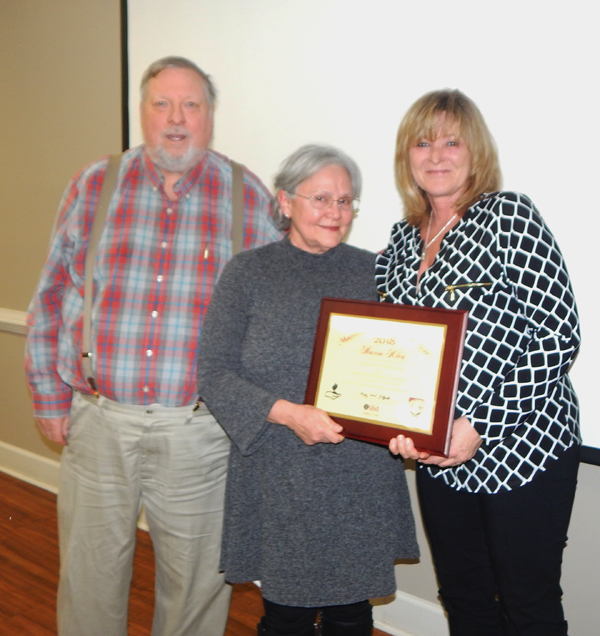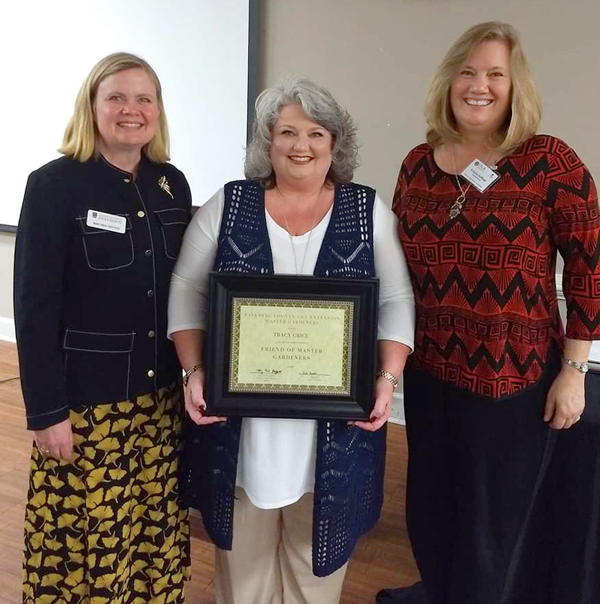 Paulding County UGA Extension Master Gardener Volunteers recently recognized Marcia Riley as Paulding County Master Gardener of the Year as well as the Tracy Grice of the Paulding County Farm Bureau as the Friend of Master Gardeners at their Annual New Beginnings Celebration Dinner.
Chosen by her fellow Paulding County Master Gardener Extension Volunteers, Marcia Riley was awarded the coveted title of Master Gardener of the Year for 2018. Marcia has volunteered in many Extension activities in 2018 and has many attributes that make the Master Gardener Group stronger at what they do. Marcia is one who works well with others but also works independently doing jobs others don't like to do or don't volunteer to do and often does them quietly with few people aware of the contributions that she has made, until after work is complete. Fellow Master Gardeners describe her as steady, dependable, reliable, concerned for others safety and the safety of our environment. Marcia is an "unsung hero". The award was presented by previous MG of the Year Award Winners, Robert Banks, and Carolyn Bruce.
Tracy Grice received the Friend of Master Gardener award at the Master Gardener Awards Program, as well. The Friend of Master Gardener recognition is awarded to Community Partners who collaborate with Master Gardeners to conduct successful programming. Tracy is a tireless advocate for agriculture in our community. She has been instrumental in Master Gardener collaborations with Farm Bureau, helping us to provide School Garden Advisement for Paulding County educators and parents who are creating gardens in our schools. For several years, she has allowed us to help deliver gardening education and professional development opportunities to teachers in Paulding County through a partnership with the Farm Bureau. Paulding County Master Gardener Extension Volunteers and Paulding County UGA Extension are grateful for these vibrant volunteers and community partners and their continued service in the community!
As representatives of the University of Georgia Cooperative Extension, Master Gardener Extension Volunteers are trained experts, who provide education about home horticulture, sustainable landscaping, and environmentally friendly gardening practices using unbiased, research-based information from the University of Georgia. For more information on gardening in Paulding, contact a Master Gardener or the County Extension Agent at the Paulding County Cooperative Extension Office at 770-443-7616 or check us out online at www.ugaextension.org/paulding.
top: Bob Banks and Carolyn Bruce present Marcia Riley with the Master Gardener of the Year Award.
btm: Mary Carol Sheffield, CEC, recognized Tracy Grice, Paulding County Farm Bureau as a Friend of Master Gardeners with help from Kristine Huffman, MGEV and School Garden Advisor.