The Paulding Chamber of Commerce recognized two thriving and growing local businesses at its fourth annual Industry Appreciation Breakfast April 9. Chattahoochee Technical College continued as the presenting sponsor for the awards presented at the 8 a.m. breakfast at Paulding Northwest Atlanta Airport.
The 2015 honorees are West Cobb Engineering & Tool as Manufacturer of the Year and Harris Diversified as Industry of the Year.
"Industries that have chosen Paulding County are helping our citizens by diversifying the tax base and providing jobs for our community," says Carolyn Wright, president and CEO of the Paulding Chamber of Commerce.
"These awards show our appreciation for these industries and they increase public awareness about the manufacturers who are here," she said. "Much of the public doesn't know we have these companies and what they do, and we want to honor industries that have selected Paulding County as their home."
West Cobb Engineering & Tool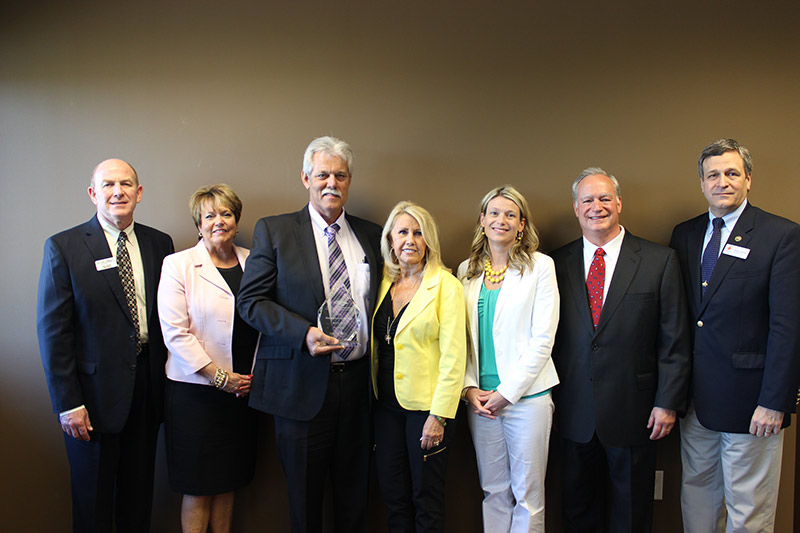 Wade Terrell founded West Cobb Engineering & Tool Inc. in 1987 with the modest goal of hiring 4-6 people, but now Paulding's Manufacturer of the Year employs 32 and "has been blessed and we've continued to grow."
The company operating in 50,000 square feet of mostly environmentally controlled space at 7267 Hiram Douglasville Highway has contributed to the production of products ranging from airplanes to automotive race cars, the latter a specialty of the new general manager. Terrell plans to add a 17,000-square-foot building next door as expanding services have grown to include carbon fiber manufacturing used in race cars.
A graduate of Southern Polytechnic State University who attended Georgia Tech, Terrell was a composite tool engineer at Lockheed Martin before opening his business. The new enterprise had peaks and valleys before a transformative experience in 2008, when Terrell's pastor sparked his desire to help suffering people.
He set a goal of giving 10 more people jobs in the next year "with no idea where the work would come from." The "quote table" where potential jobs had been kept had oftentimes been empty, but "the quote table hasn't been bare since 2008," Terrell said. He exceeded his 12-month hiring goal with 13 new employees "and 15-18 since then."
West Cobb Engineering & Tool is certified to manufacture airplane flight hardware parts as well as tooling and manufacturing ground support equipment used to build and maintain aircraft. Customers have included Lockheed Martin, Cessna, Gulfstream and NASA.
The majority of the company's work is in design and tool fabrication, says Terrell, as the range of jobs and clients grows. Specializing in high-precision flight hardware and tooling for aerospace customers, West Cobb Engineering & Tool operates a wide range of cutting-edge machining and manufacturing systems.
Company honors have included the 2008 Lockheed Martin Small Business Manufacturer of the Year award, 2009 Small Business Administration Award for Excellence and Atlanta Business Magazine's Top 25 Entrepreneur award in 2011.
Terrell is a charter member of Paulding Aerospace Alliance, "which is very valuable to aerospace companies in Paulding," he says. "It gets business owners together on a routine basis to discuss new programs, liability insurance, healthcare, workman's comp, etc. We've toured each other's facilities and see capability for outsourcing in Paulding County rather than 300 miles away.
"I live, work and go to church in Paulding County, and I'm happy to call Paulding County my home," says Terrell.
Harris Diversified
Rick and Delores Harris didn't set out to build the highly charged business that powers events and filmmaking throughout Georgia, but now a staff of more than a dozen helps Harris Diversified, LLC, serve a diversifying audience.
The Harrises opened their business in 2003 and have been at 230 Summerville Road in Dallas since 2012. The 2105 Industry of the Year rents diesel and gas generators, power distribution equipment, portable heaters and air conditioners, light towers and globugs.
Harris has licensed electricians on staff and experienced technicians to install power and HVAC equipment. The company can provide turn-key service that includes pre-event power consulting, logistics and pulling electrical permits "in-house" when needed.
As a licensed electrician who had worked in the convention industry at Georgia World Congress Center and Cobb Galleria Centre, Rick Harris intended to build houses but fortunately was diverted pre-recession. Someone who knew of his experience asked him to provide power to vendors at an Atlanta Motor Speedway event, and one request led to another and another.
"The next thing we knew, we were providing power for outdoor events," says Delores. "After the construction industry started going down the tubes, working with festivals and events saved us."
After a few years concentrating on power for outdoor events, Harris Diversified began providing temporary power for the film industry too.
"Providing power is our specialty, but we realized there was so much need for HVAC as well," says Delores. Because they listened to the needs of the filming industry, they began adding portable HVAC units to their inventory for location shoots and production stage sets.
Most work and rentals are in the metro Atlanta area, but Harris serves events throughout the state and Southeast. Some of the larger past events are galas for the Super Bowls in New Jersey, Indianapolis, Miami and Jacksonville and several Harley Davidson "Hog" rallies. Events and film credits are posted at harrisdiversifiedllc.com.
"While we are working with a lot of different locations and production contacts, we continue to be an advocate for the Atlanta Film Studio here in Paulding County," says Delores. "We are hoping the film industry will spread out and use areas like Paulding County, especially the film studio, even more. We will be thrilled when it is booked all the time."
Harris Diversified is proud of its membership in the Paulding Chamber of Commerce and has been a sponsor at recent air shows in the county. "We want to be a part of and give back to the community," says Delores.