Chattahoochee Tech Nursing Graduates Honor Classmate with Bench. David E. Loos II of Waleska wanted to find a cure for cancer, according to Chattahoochee Technical College Program Director Quentina Pittman-Howell. It was that motivation to cure the disease that had claimed the life of his grandmother Susan Jenness that led him to pursue an associate degree in nursing at the college where he was on schedule to graduate in December 2014. However, the 24-year-old passed away May 15 that year. "It has been overwhelming for us and how many lives he touched in such a short period of time," said his mother Patricia Ann Loos.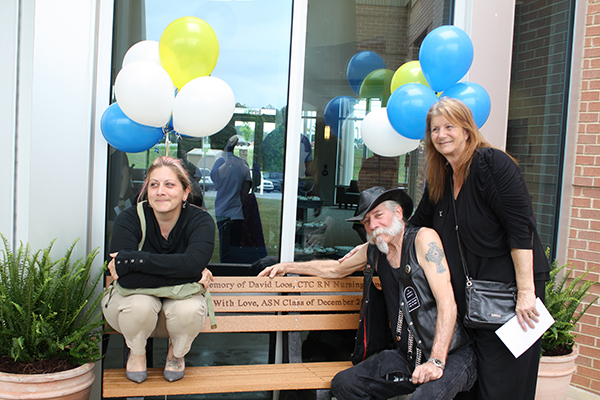 His mother, father, and sister were surrounded by several of Loos's classmates, friends, instructors, Dr. Ron Newcomb and other administrators in a ceremony coordinated by the Chattahoochee Tech Foundation Wednesday to dedicate a bench in honor of the nursing student. It was a project spearheaded by those he had gone to class with through his time at the college.
"You just couldn't forget him once you met him," said classmate and program graduate Jennifer Easterling. "We hope this bench will bring future nurses a place to feel his spirit and his energy and know that they can make it through the hardest 16 months of your life."
Described as outgoing, friendly, good at math, and inspiring, Loos was one of 38 students in the program's cohort at that time. Pittman-Howell said that he was a great student, always friendly and eager.
"When you're a faculty member, you really hope that you have a student who values the profession and wants to be a nurse," Pittman-Howell said. "I appreciate David because he was in it for the long haul."
The bench, which is inscribed with his name sits outside the B building at the Paulding Campus in Dallas. While Loos took his classes at the college's Austell campus, the nursing program is in the process of moving to its new home in Paulding County where students will study just upstairs from it.
"You can see that he had a loving family that loved him, nurtured him, and still misses him," said Dr. Newcomb. "You can see that he made an impact on lives. You hear that from the students who were in class with him. You can see that he was a smart man because all these students in the nursing program are smart folks. I'm sure he took a lot of pride in being in that program and a part of this great group of people. It is also clear that he would have been a great nurse." "It continues to mean so much to us that you all remember him," said his sister, Meredith Loos, who told the current cohort of nursing students that her brother would have been encouraging them the whole way. "He would be coaching you and telling you that you can do it. Just stick with it, you can do it." About Chattahoochee Tech Foundation: In July 2009, Appalachian, Chattahoochee, and North Metro Technical Colleges merged operation to become the largest technical college in the state of Georgia serving more than 15,000 students annually across the six counties of Bartow, Cherokee, Cobb, Gilmer, Paulding and Pickens. As a result, the Chattahoochee Tech Foundation was created to bring the merged college Foundations together. The Chattahoochee Tech Foundation is a private, non-profit organization to advance the mission and vision of the Chattahoochee Technical College. For more information, visit www.chattahoocheetech.edu/foundation.