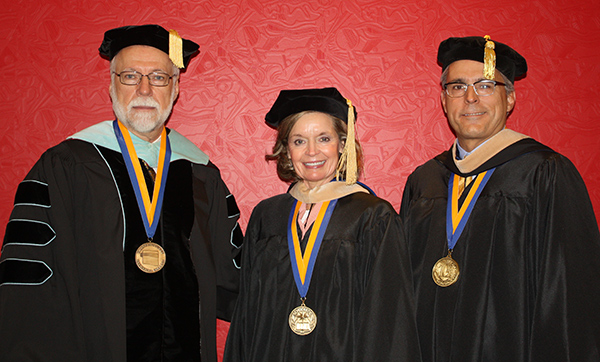 It might seem fitting that the commencement speaker at Chattahoochee Technical College's 2015 graduation spoke about technology, including taking a selfie with the graduates and instructing them to text their thanks to the people who had supported them in their educational journey. Steven Hartman, Chief Technology Officer for the Power Generation Services Business in GE Power & Water, served as the speaker for the ceremony, texted his own thank you message to his mother who raised three children and only stopped working recently at age 80. "My advice to you is to work hard, help others and be good," Hartman said in a speech that quoted C.S. Lewis, Walt Disney, and Ellen DeGeneres. Close to 400 graduates walked in a ceremony in front of a nearly packed house at the Cobb Energy Centre. Earning associate degrees, diplomas and technical certificates of credit. More than 2,500 graduates were honored in a ceremony for students who finished their programs of study in the Summer of 2014, Fall of 2014 or Spring of 2015.
Hartman also encouraged the graduates of Chattahoochee Technical College to continue learning whether in their jobs or in their personal lives. That was a sentiment echoed by many of the graduates who are already pursuing higher degrees or planning to do so in the near future.
For Caty Carlson of Hiram, who graduated with her father, Clay Carlson, Chattahoochee Technical College's Technical Specialist Certificate offered her the opportunity to earn credit for general education classes close to home and at an affordable price. She is now studying at Kennesaw State University as junior. Soon Carlson will have other CTC alum around the campus as Woodstock residents Meghan Moriarity and Agbeti Tete both chose to study at the Georgia's largest technical college for its lower tuition, convenient locations and small class sizes.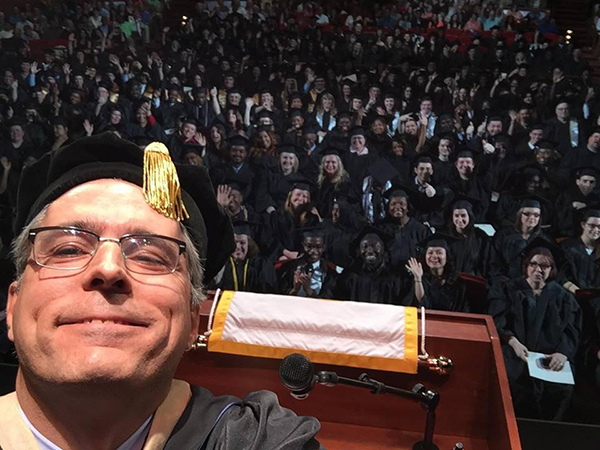 Jasper resident and Business Management graduate Charlene Higgins is also continuing her education, but she is now at Reinhardt University. While Higgins lives not far from the Appalachian Campus of the college and attended classes both in Jasper and at the Canton Campus, she said she is a big advocate of technical education.
"Sometimes you walk into a place and know it is right," she said. "That's the way it was for me and Chattahoochee Technical College. I tell everyone I know about it."
Another Business Management Graduate, Vintrice Wright of Marietta, said she too had chosen to go to a school that had a good reputation. Currently employed in an automotive finance position, she is hopeful that her new degree will help her move up into a supervisory position. The self-proclaimed lover of bling and anything shiny decorated her cap for the occasion with a message for her son Kaison.
Fire Science Graduate and U.S. Army Veteran Secunda Hughes of Gwinnett County also hoped that his graduation would send a message. The former paratrooper said that he knows that his graduation will motivate many of his friends to pursue an education.
"I've enjoyed the process and hope to take what I've learned back to other veterans to help them use their minds to get ahead," Hughes said. "It's a hard road to come back, but I know they can do it."
Close to 20 military veterans wore red, white and blue honor cords for the ceremony 41 students who completed an associate of applied science or diploma program with a 4.0 cumulative grade point average wore gold cords. The most popular area of study for graduates was Healthcare Sciences, including Associate Degree Nursing, Practical Nursing, Radiography, Physical Therapist Assistant, Health Information Management Technology, Medical Assisting, Healthcare Assistant certificates and Healthcare Science certificates. This was followed by programs in the area of business, including Accounting, Business Administrative Technology, Business Management, Marketing Management and programs in the field of Automotive, including Automotive Technology, Auto Collision Repair, Automotive Fundamentals and other Automotive Certificates.
For more information on Chattahoochee Technical College and its programs, visit www.ChattahoocheeTech.edu or call 770-528-4545.