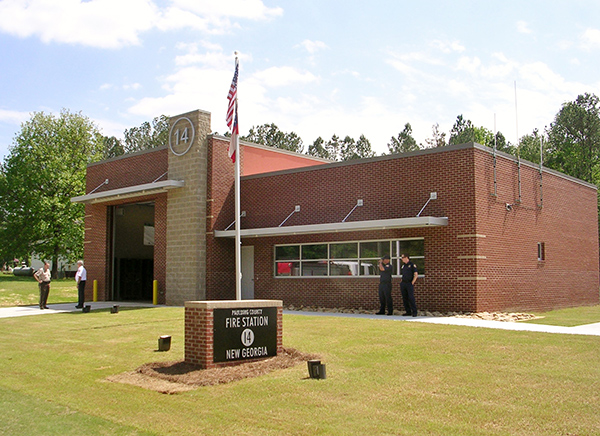 Paulding's Station #14 in the New Georgia community, built with SPLOST funds, opened officially on March 31, but held its grand opening at a ceremony last week. Fire fighters and county officials joined citizens on April 28 for the ribbon-cutting event.
Fire Station #14 is located on Mulberry Rock Road near the intersection of Highway 61 and Ridge Road, and will greatly reduce emergency response times in a fast-growing residential area, county officials said. The station is staffed 24 hours a day, seven days a week.
"This is part of our comprehensive plan to expand fire service coverage and reduce response times, as supported by the Board of Commissioners," said Paulding County Fire Chief Joey Pelfrey. "There are many benefits -- including faster on-scene times for both fire suppression and emergency medical calls."
And also according to Pelfrey, about 2,300 residents could be looking at a substantial savings on their home insurance rates as Station #14 becomes operational.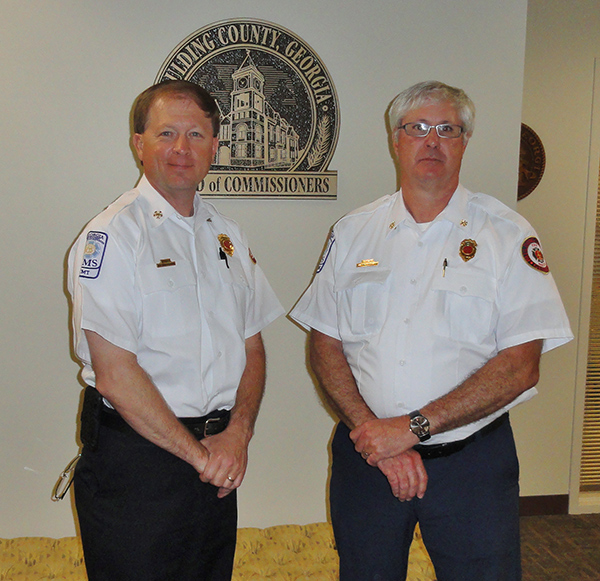 Pictured L-R, Paulding County Fire Chief Joey Pelfrey and Deputy Chief Greg Elsberry. (Photo: Richard Grant)
"While we can't control insurance companies and their premiums, it is customary that residences within five miles of a fully staffed fire station, and 1,000 feet from the nearest fire hydrant, have lower premiums. Station #14 is expected to lower the Insurance Service Office (ISO) rating in many areas of the New Georgia community to a level '5' down from the current '9' rating. That could translate to some of our homeowner's seeing as much as a 50 percent reduction in their insurance cost," Pelfrey said.
The Insurance Service Office (ISO) rating system is a tool used by insurance companies to measure risk and corresponding premiums.
"This will not happen until the rating bureau conducts their official review and reclassifies the area, but it is imminent," Pelfrey said, and he added at last week's ribbon-cutting event that notification cards will be going in the mail to residents later this month.
In addition to its newest fire station, Paulding County also introduced Greg Elsberry as the new deputy fire chief at the April 14th Board of Commissioner's work session. Elsberry has served the Paulding County Fire Department since 1992. He began as a volunteer and has been employed as a full time employee the last 18 years. He has been in the operations division as a battalion officer and division chief for the last 10 years.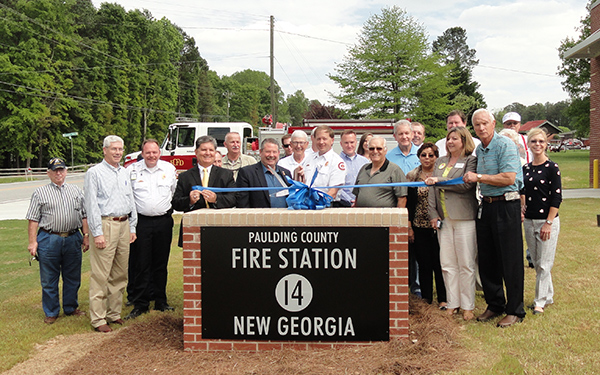 At last week's ribbon-cutting Sen. Bill Heath (2nd from left), Paulding Commission Chairman David Austin (4th from left and holding ribbon), Post 2 Commissioner Todd Pownall, Chief Joey Pelfrey (center w/scissors), former Post 2 Commissioner Don Powell and Post 1 Commissioner David Carmichael (far right holding ribbon).