New Hope memorial remembers Flight 242, ties to traveling library display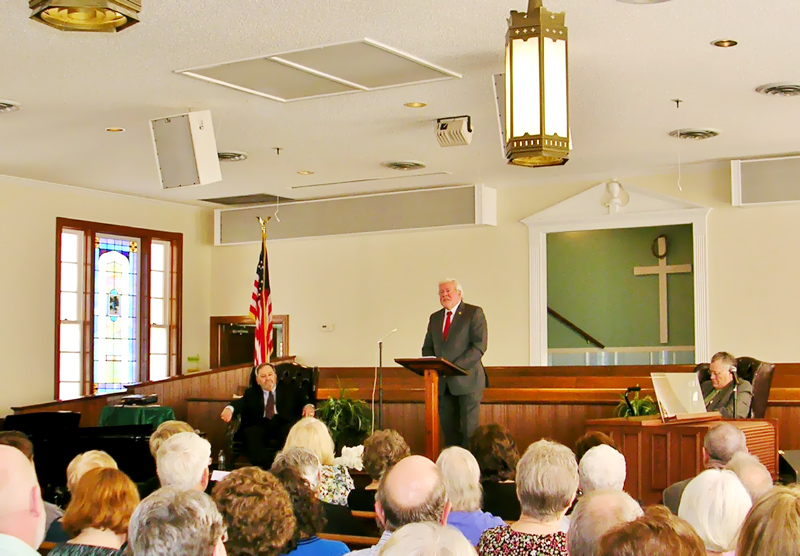 A gathering in Dallas was held last Saturday to remember the worst aviation disaster in the state's history, which occurred in the New Hope area in 1977. Local clergy addressed the gathering during a special service at New Hope Baptist Church. District 17 State Rep. Howard Maxwell, R-Dallas was present and delivered a presentation from Governor Nathan Deal.
Southern Airways Flight 242 executed a forced landing on what is now Ga. 381 on April 4, 1977, after suffering hail damage and losing thrust on both its engines in a severe thunderstorm during a flight from Huntsville, Alabama to Atlanta.
Last weekend's event was scheduled in coordination with the Paulding County Library System's hosting of the Flight 242 Traveling Display of mounted news articles and photos of the crash. The display can be viewed from March 27 through April 8 at the Maud P. Ragsdale Public Library at 1815 Hiram-Douglasville Highway.
The passing of four decades since the crash in 1977 has done little to dull the memory of that day for many friends, families of victims, and survivors. New Hope Memorial Flight 242, Inc. is actively working toward raising funds for the construction of a permanent monument to preserve the memory of those who lost their lives and to honor the survivors and first responders. And Paulding County has dedicated a site for the monument at the edge of New Hope Cemetery, a short distance from the crash site.
New Hope Memorial's President Cherry Waddell said the price tag of a permanent memorial near the site of the crash has risen to about $300,000 and thus far about $22,000 has been raised. She said it may take about four to five years to reach their goal.
As with many such accidents, several factors conspired to bring down the Southern Airways DC-9 on that April day in 1977. Captain Bill McKenzie and co-pilot Lyman Keele were advised of thunderstorms and possible tornadoes along their general route prior to their departure from Huntsville, but not subsequently updated of the fact that the cells were formed into a squall line.
The crew was apparently misled by their onboard weather radar and attempted to pick out a path through the cells. As the flight descended from its cruise altitude of 17,000 feet to 14,000 feet near Rome, it apparently entered a thunderstorm cell and encountered a massive amount of water and hail. The hail was intense enough to break the aircraft's windshield. Both engines were damaged and underwent flameout.
The crew, unable to restart the engines, was now gliding down un- powered while simultaneously trying to find an emergency landing field within range.
As the aircraft ran out of options, the crew made visual contact with the ground and spotted Georgia 92 Spur, (now Ga. 381) a straight section of highway running through New Hope in Paulding County. They attempted to set down, but during the rollout the aircraft collided with a gas station/grocery store and other structures.
The flight crew and 60 passengers were killed, but 19 passengers ultimately survived, as well as both flight attendants. Eight more people on the ground died. One passenger initially survived the crash and died on June 5, 1977. And another seriously injured person on the ground died around one month later.
Tax deductible donations can be mailed to Attn.: Sheilah Pickett at Georgia Heritage Bank, P.O. Box 1430, Dallas, GA 30132. Checks should be made payable to: "New Hope Memorial Flight 242, Inc." or donate online at bit.ly/support242memorial.

1. District 17 State Rep. Howard Maxwell, R-Dallas, delivered a presentation from Governor Nathan Deal during Saturday's Flight 242 service at New Hope Baptist Church. (Photo: R. Grant)
2. Plaque and design graphic for New Hope Flight 242 Monument to be placed near the crash site. (submitted)