More than 500 Companies – Including 13 Manufacturing in Georgia – Chosen to Pitch Their U.S. Made Products at Walmart's June 28 Open Call
Fourth Annual Event Showcases American Entrepreneurship, Ingenuity and Diversity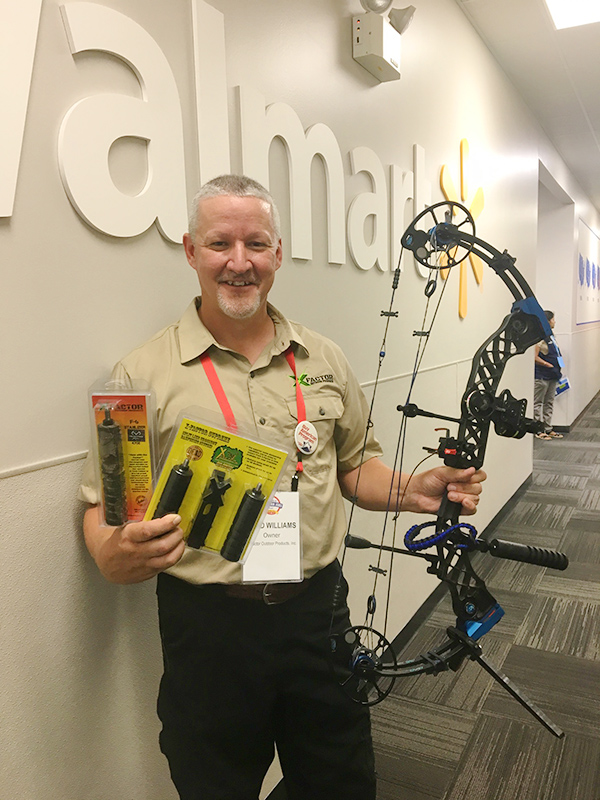 BENTONVILLE, Ark., June 22, 2017 – Walmart is inviting more than 500 businesses from across the nation – including 13 manufacturing in Georgia – to present their Made in the USA products June 28 to the world's largest retailer in Bentonville, Ark., giving entrepreneurs a unique opportunity to potentially reach millions of Walmart customers.
Now in its fourth year, Walmart's Open Call is one way in which the company continues to invest in American jobs by accelerating the growth of U.S. manufacturing. This year's event will showcase American entrepreneurship and celebrate ingenuity and diversity. Nearly half of all businesses attending Open Call self-identify as diverse, including 25 percent identifying as women-owned.
"We are thrilled that entrepreneurs from across the country, including many diverse-owned businesses, continue to respond so strongly to the opportunity to participate in Walmart's annual Open Call," said Cindi Marsiglio, Walmart vice president for U.S. Sourcing and Manufacturing. "While finding products our customers want is a year-round focus for our buying teams, Walmart's annual Open Call is a special opportunity to connect our buyers with companies that are manufacturing products in the U.S. and to identify new and unique product solutions."
Attendees this year represent 48 states, District of Columbia and Puerto Rico. States with some of the largest representation include California, Florida, Illinois, Michigan, New Jersey, Ohio, Pennsylvania, Texas, and Wisconsin.[1]
With some companies pitching multiple products, more than 750 meetings have been scheduled with Walmart buyers representing a broad range of product categories.
From secret sauces and pocket-sized hair gel, to photographic mouse pads and bowls designed to keep cereal crisp, this year's diversity of new innovative products represent a broad range of categories such as food and beverages, home décor and apparel. While some businesses are larger, many are "kitchen-table" companies, vying for a chance to work with the world's largest retailer and earn a place on the shelf. Some of this year's Open Call attendees include:
· Mary's Kitchen (Richmond, VA) – Some people may think that their Sweet Potato Pie is the best, but Mary Lee truly believes her pie takes first prize. When she was a child, people would line up to get her mother Dorothy's sweet potato pies; and now Mary is bringing the same recipe to Open Call. This is a chance for her to share her family's tradition with Walmart shoppers.
· Anndori Outdoor Art (Greensboro, NC) – Have you ever tried to create a large Christmas ball from chicken wire and stringed lights? It's not easy. Sandra Alexander made a simple craft solution that creates beautiful holiday décor that won't leave scratches from chicken wire. She hopes that the Craft Lover's Holiday Light Ball Kit brings consumers joy, but that the product also allows her to create more jobs.
· C & C Foods (Charleston, SC) – Sweet Savina Surprise is a sauce with a little heat and a little sweet. A unique pepper discovered on an African mission trip inspired the one-of-a-kind recipe made with locally grown ingredients in the Charleston area. C & C Foods hopes to bring this surprising sauce to the shelves of Walmart through Open Call.
· Pocket Gel, Inc. (Pittsburgh, PA) – If you have gotten caught in the wind, rain or snow and wished you had some hair gel, Pocket Gel believes it has the product for you. Founder Nathan Failla began putting hair gel in foil to carry to the gym when he realized he couldn't be the only one with this need. He continued to refine the packaging until he created Pocket Gel Instant Hair Gel.
Todd Williams of Dallas, Ga., and owner of X-Factor Outdoors, received an offer to have his archery supplies put on Walmart shelves nationwide. Todd's product is the only all American-made accessory line for archery.
About Walmart
Wal-Mart Stores, Inc. (NYSE: WMT) helps people around the world save money and live better - anytime and anywhere - in retail stores, online, and through their mobile devices. Each week, over 260 million customers and members visit our 11,695 stores under 59 banners in 28 countries and e-commerce websites in 11 countries. With fiscal year 2017 revenue of $485.9 billion, Walmart employs approximately 2.3 million associates worldwide. Walmart continues to be a leader in sustainability, corporate philanthropy and employment opportunity. Additional information about Walmart can be found by visiting http://corporate.walmart.com on Facebook at http://facebook.com/walmart and on Twitter at http://twitter.com/walmart.