KSU approved to lease space in Historic Dallas Courthouse for expanding operations
The Board of Commissioners last week approved a lease agreement with Kennesaw State University to provide a new home to the school's 2+2 Degree program and to expand operations to provide information and financial opportunities aimed at first generation college students.
The board approved the school's proposal to occupy the third floor of the historic court building in downtown Dallas, for a lease agreement of $3,580 a month and extensions to renew for five years. According to Dr. Anita VanBrackle, site director and faculty in- residence for KSU, the third floor space is "...perfect for us because of the way it's divided."
VanBrackle said that because it's a historic site there would be no renovation beyond the possibility of some painting and added that it will also bring jobs and some business to the downtown area, as well.
Paulding's school board had already approved the plan, but prior to moving in an approval will also have to come from the Board of Regents and hopefully by the end of August, VanBrackle said. VanBrackle and associates spoke with Paulding County Commission Chairman Dave Carmichael recently about the proposal after receiving news that they had been awarded grant funding.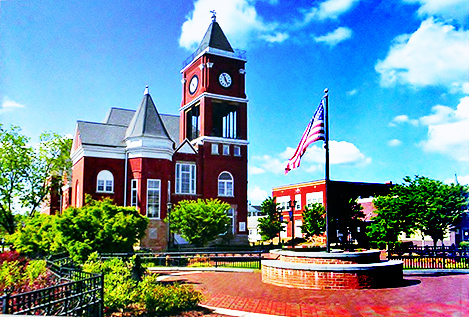 "We have just been awarded two federal grants called Upward Bound grants. They work with first generation college students, low income, high achieving, but they really have no focus on attending college because nobody in their life has attended college," VanBrackle said. "This is the first time KSU has been awarded this particular grant funding." Dalton Lemelle Jr. is assistant director of program development and recruitment and together with Charlotte Hiles, administrative specialist authored the school's proposal and managed to secure the funding, which is for $1,287,500 to be distributed over five years, Ms. Hiles said. Grant funding begins the five-year period on September 1, Hiles said.
"Goals of the program are to encourage high school graduation, help them apply to college, teach them about financial aid at college and seek financial resources, so when they go they can be successful there and graduate college too," Hiles explained. Qualifying the grant funding was largely due to where Hiram High fell with graduation rates, but also looked at students that would go on to college and graduate, Lemelle said.
"The drop-out rate for the county...and the rate of students completing college after five years, that rate was significantly lower than the national average," Lemelle said.
Lemelle said the program involves both parents and students in workshops, field trips and other activities to allow them to be exposed to the full gamut of higher education opportunities.
The program will serve 60 students a year for five years at Hiram High School and begins with ninth grade and continues through the 12th, Hiles said.
"Every child needs someone in their life that says 'you're worthy, you can do it and you can make a difference' and they can, they just don't know it because they haven't been told," VanBrackle said.
VanBrakle, Lamelle and Hiles administer the 2+2 Degree program at KSU-Paulding, which offers students an opportunity to begin with a transferable Associates Degree in Business/Accounting, Psychology, or Elementary & Early Childhood Education, then continue for two years at Kennesaw State University-Paulding to equal a four-year degree.