CareSource Donates $1,500 to CareLink of Northwest Georgia for New Health and Dental Center in Paulding County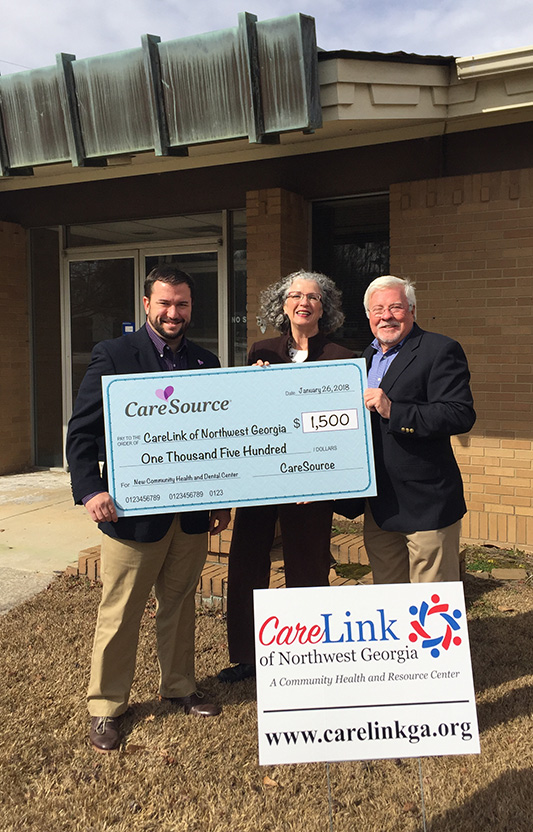 Dallas, Ga. (January 29, 2018) – CareSource, Georgia's first and only nonprofit managed care organization, presented CareLink of Northwest Georgia with a check for $1,500 to support the opening of a new community health and dental center. The new facility will provide low cost, high-quality medical care, and support resources to Paulding County residents.
Paulding County ranks 9th out of 159 counties in Georgia for uninsured residents. The new facility will offer primary care services to hardworking residents that are currently underserved and struggling with insurance premiums and high deductibles.
"CareSource is dedicated to working with community partners across Georgia as they help make a positive impact on the health and wellness of underserved and vulnerable populations," said Bobby Jones, president of the Georgia market for CareSource. "We know that CareLink's new health and dental center will help make a positive impact on the lives of those in Paulding County, and we are proud to partner with them."
CareLink of Northwest Georgia is a nonprofit organization that serves as a comprehensive and sustainable community resource center with the goal of providing long-term health and wellness services leading to healthier lives, healthier families, and a healthier community.
Pictured in the attached photo (L-R) are Jason Anavitarte, Director of State Development and Advocacy, CareSource; Rep. Howard Maxwell (R-Dist. 17); and Rita Norris, Chairperson, CareLink of Northwest Georgia.