BoC Approve Contract to Build New Sheriff's Headquarters and Detention Center
Paulding County Board of Commissioners approved a contract to build the New Sheriff's Headquarters and Detention Center during last week's regular session. The contract approved by the board is with Turner Construction at a Guaranteed Maximum Price in the amount of $60,100,000.
Substantial completion of the new jail is targeted for October 2019, and final completion by the end of 2019, according to Comprehensive Program Services' President/CEO Eric Johnson, who addressed Paulding commissioners last week.
Paulding voters said "yes" in November of 2016 to the $77 million bond issue to build a new jail and sheriff's office. Turner Construction Company, handling the construction phase, remained close to earlier estimates, which had targeted the cost just under $59 million.
Local Participation in the project is at 20.26 percent and is shooting for about 25 percent, Johnson said. Three subcontractor outreach events were hosted by Turner to encourage more local participation.
Johnson has been back to the BoC several times since their October 12th session in which they voted unanimously to pay $2.12 million for 25.3 acres of land adjoining the north side of the county courthouse at the Watson Government Complex for construction of the new Paulding County Sheriff's Office headquarters.
The BoC purchased the land — which also adjoins West Memorial Drive and the Norfolk Southern Railroad tracks in West Dallas — from former county school board chairman Joe S. Watson and Patricia Watson. A master plan for the Watson Complex included space for a county jail adjacent to the courthouse that would allow for the construction of an added transportation route for prisoners who await hearings -- a vast improvement over the existing route and procedures. According to Johnson, the Project Budget's total 'open for business' price tag was shown to be $70,200,000.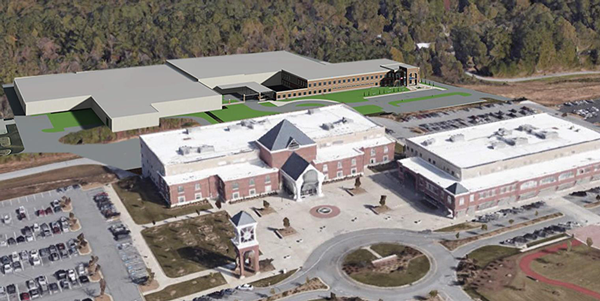 Johnson noted in October some of the benefits to purchasing new property, which included no need for a basement level due to the topography, one level support and housing reduced the need for elevators and increase response times, site work cost savings, the potential for future expansion, additional potential parking and a greater security fence distance from the facility, market conditions, soil conditions and the site logistics have been mitigated. A Georgia Sheriff's Association study indicated the need for 660 beds in the new jail and a total facility of 250,000 square feet. Johnson presented some of the plan's specifications to the board last year, which showed the delineation of space for the new facility with almost 134,000 square feet dedicated to jail operations and housing and just under 59,000 square feet for administrative and another almost 20,000 for a visitor center and out-buildings. Overall the facility was said to be just shy of 248,000 square feet. News about the project is ongoing and can be viewed at the website, pauldingjail.com