Carter Receives Service to Mankind Award
CARROLLTON, GA – Laddie Carter has been honored by the Carroll County and Carrollton Evening Sertoma (Service To Mankind) Clubs with the Service To Mankind Award for 2017. The award recognizes local philanthropists for their works in the community and at large.
As the 2017 recipient of the award, Carter has been a community leader for volunteerism and outreach for more than a decade in the Carroll County area. Beyond her works with local churches, she founded The Holy Spirit Emergency Shelter in 2014 which provides shelter to homeless individuals during inclement weather. Services of the shelter included showers, clothing, laundering, hot meals, fellowship and Bible studies. Under her leadership, the shelter expanded services to include assistance for medical or prescription needs and monthly Resource Days where anyone in need could utilize existing services plus haircuts, medical screenings or referrals to other agencies. During 2016, the shelter partnered with two local churches to provide new locations and additional support.
"Laddie is such a dedicated and giving person," said Rebecca Smith, Past President for the Carrollton Evening Sertoma Club. "Her vision and hard work address a serious need for most communities. It truly takes a servant's heart."
Laddie Carter is a Carrollton native and attended West Georgia College. She and her husband, Bill, have been married more than 50 years and have two sons, Brett and Matt. Before her philanthropic work, Carter managed her family-owned company Groover Smith Furniture Company from 1980 to 2005 and has owned antique booths in Bowdon, Georgia, and Wedowee and Oxford, Alabama. The Carters are members of First United Methodist Church and enjoy spending time with their daughters-in-law Marianna and Kelly and four grandchildren Caroline, Cole, Katy Beth and Chloe.
Sertoma (Service to Mankind) was established in 1912 as the Cooperative Club in Kansas City, Missouri. Now, Sertoma clubs can be found throughout the U.S., Canada, and Mexico. Historically, the organization has focused on speech and hearing health problems, particularly in children, but has since adopted programs targeting drug-use education and projects promoting freedom and democracy to school-aged children. Local Sertoma clubs also sponsor and support teen and collegiate clubs in area schools.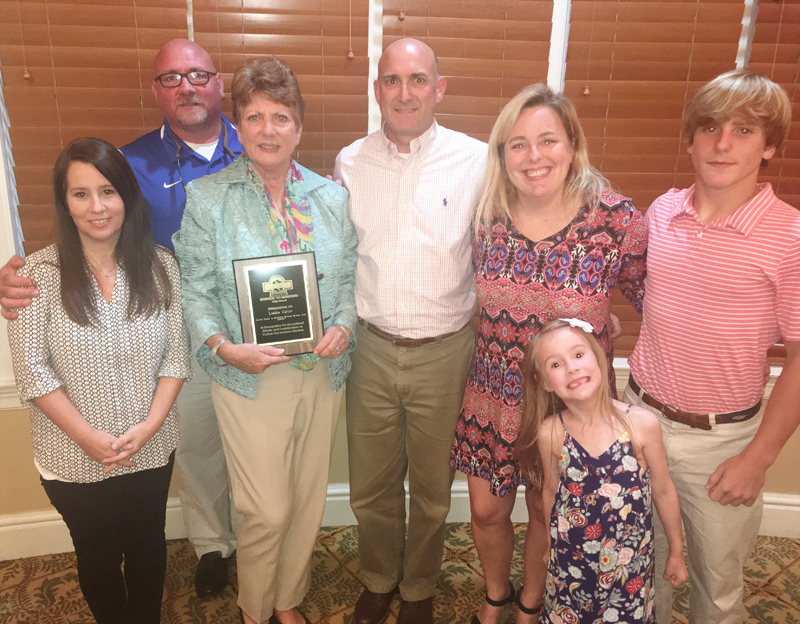 Laddie Carter pictured with her family. (Left to Right: daughter-in-law Kelly Carter, Matt Carter, Laddie Carter, Brett Carter, daughter-in-law Marianna Carter, grandchildren Cole and Caroline Carter) Photo Credit: Rebecca Smith