New Police Chief in Hiram to be Sworn-in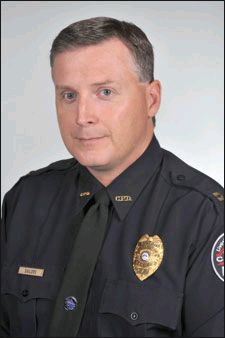 Hiram's mayor and city council named their new police chief. Jamison Sailors takes over as Chief this week. Sailors will be sworn-in on Tuesday, July 10th, during the city council's regular session. After the April resignation of former Police Chief Todd Van Zande, Hiram's staff and council began their search for his replacement. Sailors, recently approved by the council, becomes Hiram's third police chief in the last five years.
"The mayor and council, along with the police department, and city staff, are eager to get Jamison on board with the team," said City manager Jody Palmer.
Sailors, a native of Bremen, GA, began his law enforcement career with the Bremen Police Department in 1993. He moved to the Carrollton Police Department in 2000 and worked in the Patrol Division, night shift and day shift, as a patrol officer. He was promoted through the ranks to sergeant.
In 2008, he was promoted to Captain of the Patrol Division. Additionally, he served in other specialized units within the department including Traffic Division, Bicycle Patrol, Crime Scene Investigator, SWAT, and the Special Response Team. He then transferred to the Support Services Division as Captain in 2014 where he was Director of the Carrollton Municipal Court and Lead Instructor for the Training Division.
In 2017, the City of Carrollton and the University of West Georgia entered into an intergovernmental compact that allowed Jamison to be moved to the University Police Department to assist them with their professional training.
Jamison earned his Bachelor of Science in Criminal Justice from Shorter University and his Master of Arts in Criminology from the University of West Georgia.
Vande Zande, who came on board in April of 2013, left the job as a formal ongoing investigation into employee grievances against him failed to find any state, federal or local ordinances had been violated, according to City Manager Jody Palmer.
"That's where we left it," Palmer said, who spoke by phone last week. Prior to the in-house hire of Palmer to the city manager, two former Hiram city managers resigned in recent years, citing a lack of council support for finding revenue sources other than sales tax and fees to support needed staff and services, which would include salaries for the police department.
Vande Zande, a 28-year veteran law enforcement officer, started his law enforcement career in Woodstock, Ga. He was preceded in the job by Gary Yandura who left Hiram to head up a new position in the metro area as Brookhaven's first police chief.