Rep. Micah Gravley, R-Douglasville to Co-chairs First Legislative Study Committee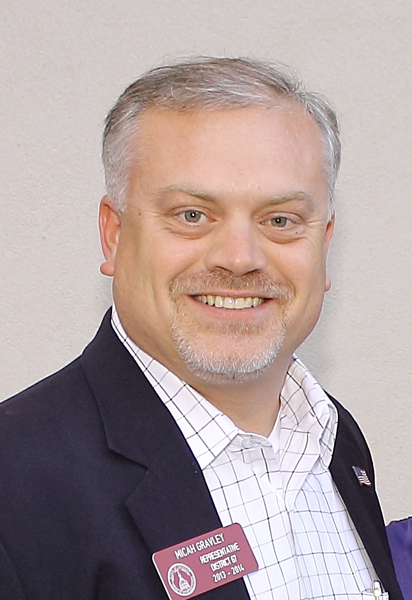 State Representative Micah Gravley (R-Douglasville) was recently appointed by Speaker David Ralston (R-Blue Ridge) to serve as the co-chair of the Joint Study Commission on Low THC Medical Oil Access. The first meeting was scheduled this week in Atlanta at the Capitol. Gravley recently announced details of the first meeting set for Aug. 29 from 1 to 3:30 p.m. in room 341 of the State Capitol. Several more meetings will follow in the coming weeks around the state on a variety of related topics.
Gravley, whose district includes parts of Douglas and Paulding counties, will lead the hearing with co-chairman District 28 State Sen. Matt Brass (R-Newnan).
"The primary purpose of this hearing is to allow testimony from patients, parents and organizations or associations in support or opposition of expanding the accessibility of medical cannabis oil," Gravley said.
Gravley added that the committee will not address any testimony regarding the legalization of recreational marijuana. "...we maintain the posture of the Georgia General Assembly which does not support the expansion of the law to include recreational use," he said.
Co-chairman Brass said they will hear updates from patients in Georgia regarding the effectiveness of THC oil treatments and any difficulties and/or barriers they have experienced in obtaining the medicine, which is available now to patients through their state issued I.D.
"We are going to be tasked with finding out how to create a system where our citizens, those patients, can have access to a medicine we now say they can legally possess," said Gravley, who spoke by phone prior to the meeting's announcement.
Gravley will co-chair with House commission members Rep. David Clark, Rep. Alan Powell, Shannon Cloud and Susan McWhorter Driscoll.
From the Senate side is co-chair Senator Matt Brass, Doctor/Senator Ben Watson, Senator Butch Miller, LaGrange Sherriff James Woodruff, and LaGrange (citizen-activist) Dale Jackson.
Gravley said the commission hearings will try and determine what model would work best for Georgia, with input from farmers, patients, and the business and the medical communities.
The commission will also explore and identify ways to ensure proper security safeguards and systems for evaluating the qualifications of potential licensees, as well as implement a plan to ensure that low THC oil is affordable and readily available statewide to properly registered patients and caregivers.
The meeting schedule for the commission is:
•Wednesday, August 29, 2018, in Atlanta. The topic will be patient, parent and organizational testimony;
•Tuesday, September 18, 2018, in Carrollton. The topic will be licensing, dispensing and security;
•Friday, October 5, 2018, in Athens. The topic will be other state initiatives and data analysis;
•Tuesday, October 23, 2018, in Savannah. The topic will be a medical analysis of pros and cons;
•Wednesday, November 14, 2018, in Perry. The topic will be Georgia growers and access.
Established by House Bill 65, the Joint Study Commission on Low THC Medical Oil Access will examine in-state access to medical cannabis and low THC oil, including the security and control of the process from acquisition and planting of seeds to final destruction of unused portions of the plant; quality control of the manufacturing process; and dispensing the final product.
The commission will continue through Dec. 31st, and then will -- ideally -- propose one comprehensive bill in the next General Assembly that will address all the distribution issues that need to be addressed in order to make low THC oil available to a growing number of card-carrying patients.
Gravely said that by the time lawmakers reconvene next year the 3,000 current registered card-holders will have moved closer to 4,000.
Commission meetings are open to the public and meetings will also be streamed online. To access the live stream, visit www.house.ga.gov/mediaServices/en-US/VideoBroadcasts.aspx. Those interested in testifying before the committee should contact Denese Sampson by emailing . For more information on HB65, go online to www.legis.ga.gov/legislation/en- US/Display/20172018/HB/65>.