Planning begins in Paulding for 2020 statewide emergency preparedness drill.
Dallas, GA: Various Paulding city-and-county officials and representatives from Paulding County public health, emergency management, law enforcement, education, healthcare, and public safety recently met at the Paulding County 911 Communications/Emergency Operations Center for a presentation from a representative of the Georgia Department of Public Health's (DPH) Office of Emergency Preparedness and to discuss and begin planning for a statewide emergency-preparedness drill to be conducted in March 2020.
The local component of the three-day drill will simulate a real-life situation the Paulding County Health Department and the Paulding County Emergency Management Agency (EMA) continually plan and prepare for with various community partners -- the need to rapidly dispense medical supplies for emergency situations to all or part of the Paulding County population due to a public health emergency. The 2020 drill will involve months of planning by community participants and will be preceded by a tabletop exercise, a discussion-based session for participants to hash out their roles and responses during the drill.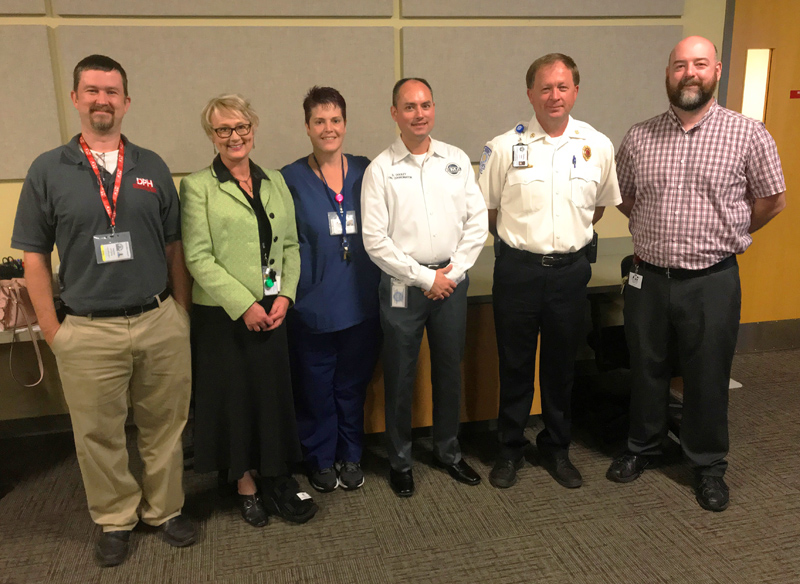 Among those participating in the meeting were (l-r): Paulding County Health Department Environmental Health Manager Adam Shell, Paulding County Health Department Nurse Manager Donna Stanford, Paulding County Health Department Nurse Nicki Ivey, Paulding County EMA Chief Joey Pelfrey, Paulding County EMA Coordinator Stephen Dooley, and Georgia DPH Northwest Health District Business Operations Manager Shaun Brand.
About the Georgia Department of Public Health Northwest Health District:
The Georgia Department of Public Health Northwest Health District works to track and prevent the spread of disease; promote health, safety, and well-being through education and communication; and prepare for, respond to, and ensure our communities are ready to handle public health emergencies, thereby improving the quality of life for individuals and families in ten northwest Georgia counties: Bartow, Catoosa, Chattooga, Dade, Floyd, Gordon, Haralson, Paulding, Polk, and Walker. Our county health departments provide a variety of medical services; monitor area environmental safety, including restaurant inspections; and help ensure their communities are prepared for disasters. Find us on the web at www.nwgapublichealth.org. Follow us on Facebook to receive news, emergency messages, and health information at www.facebook.com/NorthwestHealthDistrict