Paulding Judicial Circuit Drug Court Program Deputy Clint Barker WINS Star Award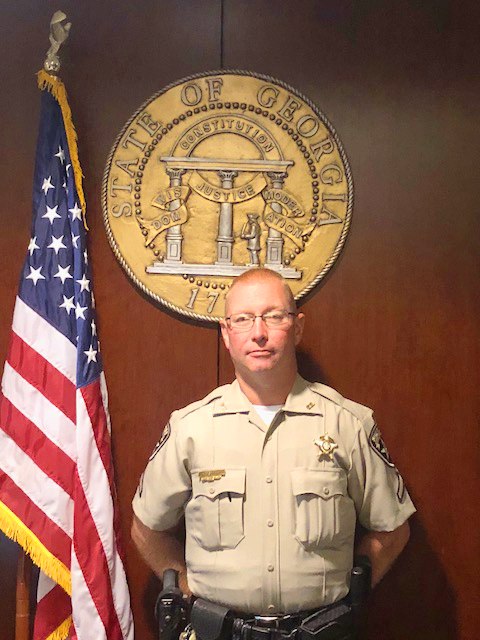 Paulding County launched its drug court program in January 2016. Our Circuit was one of the "hold-outs." Some in the county did not like the idea of an accountability court. Some in law enforcement expressed skepticism.
As the deputy sheriff on our Team, Clint was on the front lines of that skepticism. He took the questions --and sometimes the ridicule-- from others. But Clint welcomed this as his opportunity to change minds, and change minds he has. Clint has accompanied me to promote the program around the county. One of his supervising officers attended our second graduation ceremony this July and told Clint "you know I wasn't crazy about this at first, but you guys are changing my mind."
Clint is changing minds on all sides. One of our graduates has an eight-year-old autistic son named Andrew. She explained that Andrew feared police officers and only knew them as the people who would show up at bad times. But that was "BC" (Before Clint.) With Clint visiting the home regularly, Andrew saw another side of law enforcement. And during our drug court sessions, it became commonplace to see Andrew seeking out Clint to deliver high-fives and tell him about cases he was solving at home. Clint "deputized" Andrew with a plastic badge, and Andrew will tell you with pride that he is going to be a police officer when he grows up.
In 2016 Clint was providing security in Magistrate Court during first appearances when he overheard a distraught father lament that his son had caught yet another charge due to his addiction. Clint took the father aside and explained our program and made inquiries. Approximately two years later, his son graduated from our program. Clint has the perfect balance of compassion and toughness. Our participants know this. They trust him. They call him. They confide in him. Our defense attorney and therapist don't take it personally when participants call Clint (instead of them) to make confessions and seek advice. We've all come to expect it.
During the last couple of months, Clint has had to cut his hours to help with some health issues experienced by family members. This has taught us two things: first, Clint is as good a family man as he is a surveillance officer. Second: Clint is irreplaceable. Things aren't the same when he is out.
Officer Barker is our rock star, and we'd love for him to be recognized as such.