Miss Stone Mountain 2019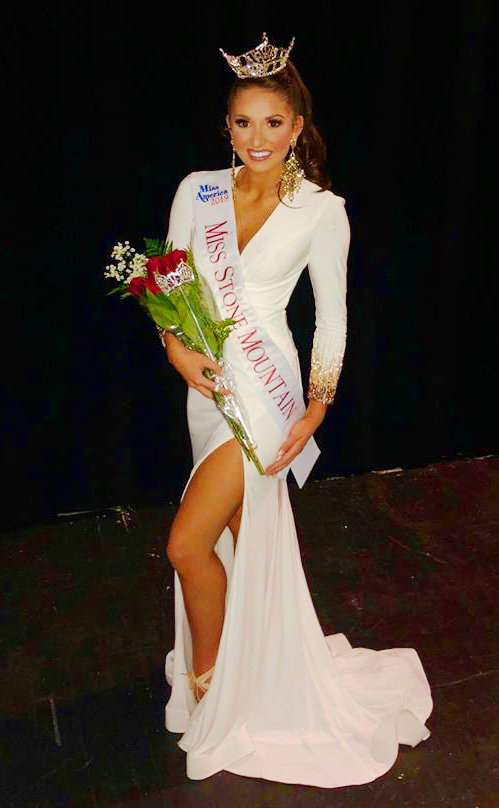 Congratulations to Dallas resident, Fallon Robinson, who was crowned Miss Stone Mountain 2019 on Saturday, September 8th, 2018. Fallon competed in Interview, On-Stage Question, Lifestyle, and Fitness, Evening Wear and Talent. Fallon not only won the title but also took home the Evening Gown Award and used her gymnastics skills as Georgia's All-Around State Champion 2018 to win the Talent Award. The Miss Stone Mountain Pageant is an open pageant, which allows young women from throughout the entire state ages 17-25 to compete for the title. Fallon will be a candidate in the Miss Georgia Pageant in June 2019, which is held in Columbus, Georgia.
This past June, Fallon represented Paulding County at the Miss Georgia's Outstanding Teen Pageant, and was honored to be named 3 rd runner-up and took home a Preliminary Talent Award. The Miss America Organization is the largest scholarship organization for women and as such has awarded Fallon, this past year, $1800 in scholarship money. Fallon is a senior in high school with a 4.426 GPA and plans to attend Mercer University next fall to study Medicine. Fallon is the reigning Miss Paulding County's Outstanding Teen 2018 and will give up her crown on Saturday, October 6th at Paulding High School at 7:00pm. She has loved her year of service and plans to continue her commitment to her community.
Fallon's Social Impact Initiative is "Value Yourself: Eating Disorder Awareness. She participated in events through the Atlanta area and hosted her own event at WellStar Paulding Hospital and has helped to raise over $160,000 this past year for Eating Disorder Awareness. She is the current President of the EDIN's (Eating Disorder Information Network) Junior Board and invites everyone to join her team for Merrick's Walk in Atlanta on October 21st. Fallon invites you to contact her at and to visit her Instagram value__yourself.