DAR Patriotic Display in Celebration of Constitution Week
The display featuring the U.S. Constitution, visible as you entered the Dallas Public Library, was placed there by the Edward Hagin Chapter of the National Society, Daughter of the American Revolution. This patriotic display was in celebration of Constitution Week, September 17th-23rd.
In 1955, the Daughters of the American Revolution (DAR) petitioned the U.S. Congress with a resolution that the week of September 17-23 be dedicated for the observance of the U.S. Constitution. The observance of the Constitution, the foundation for the American form of government, was signed into law by President Dwight D. Eisenhower on August 2, 1956. George W. Bush officially declared the inception of Constitution Week in 2002.
The aims of Constitution Week are to: teach the public about the historical events surrounding the establishment of the Constitution and the men who framed the document, emphasize all citizens' responsibility to protect and defend the Constitution, and educate all citizens that the Constitution is the foundation for our way of life. Constitution Week is a great time to learn more about this important document and celebrate the freedoms it gave us. The Constitution is a living document that assures each citizen fo the freedoms Americans cherish and appreciate. The Daughters of the American Revolution is a non-profit, non-political volunteer women's service organization. DAR members are dedicated to promoting historic preservation, education, and patriotism in communities across the nation.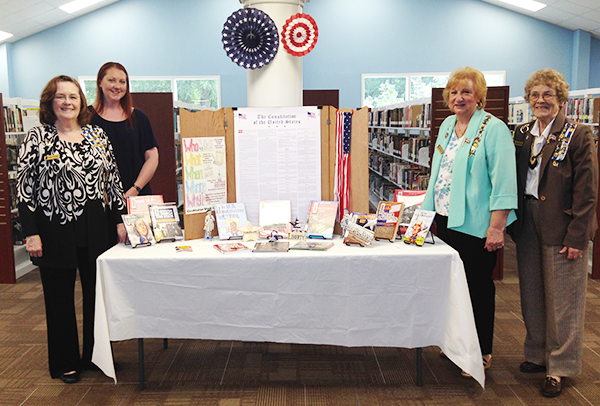 Pictured at the Public Library are (L to R) Regent Eleanor Quigley, Vice Regent Wendy Cates, Treasurer Hilda Shipp, and Registrar Lynn Harburn.