A Community Taking a Stand Against Domestic Violence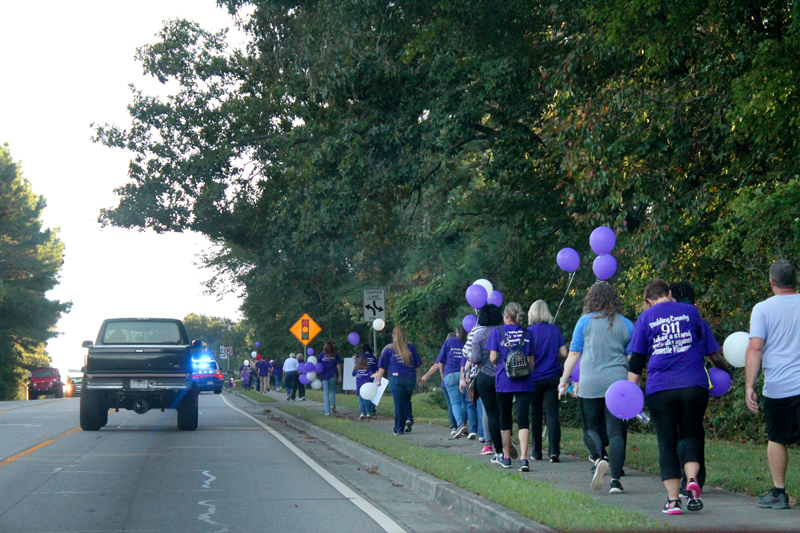 October is National Domestic Violence Awareness Month and Friday evening, citizens of Paulding County took a stand against domestic violence. Shepherd's Rest Ministries sponsored a Domestic Violence Awareness Walk and Candlelight Vigil on October 12th, beginning at the square near the old Courthouse in downtown Dallas. After a great performance of music by The Jesus Generation, the 2.2-mile walk began at 5:30 p.m. with Dr. Kathryn Melton, Founder and Executive Director of Shepherd's Rest Ministries and State Representative, Kimberly Alexander, leading the march. It was a touching sight to see the long line of women, men, children, pets, baby carriages, and even a woman being pushed in a wheelchair - everyone in purple for domestic violence - coming down the hill from town, each with their own personal story to tell. It was a beautiful testimony of people taking a stand against domestic violence in Paulding County.
After the walk, a Candlelight Vigil in memory of those who have lost their lives in Georgia due to domestic violence was held in the square. Speakers included Senator Bill Heath, State Representative Kimberly Alexander, Chaplain Tommy Leonard, Shepherd's Rests' Executive Director Dr. Kathryn Melton, Nicole Albritton, and Caleb Hanson. The testimonies of survivors show what a deep impact family violence has on the lives it touches, but, thanks to organizations such as Shepherd's Rest Ministries, there is help available. If you or someone you know needs help, please call Shepherd's Rest's 24-hour crisis line at 770-443-5213.