State Rep. Micah Gravley Receives Champion of Georgia Cities Award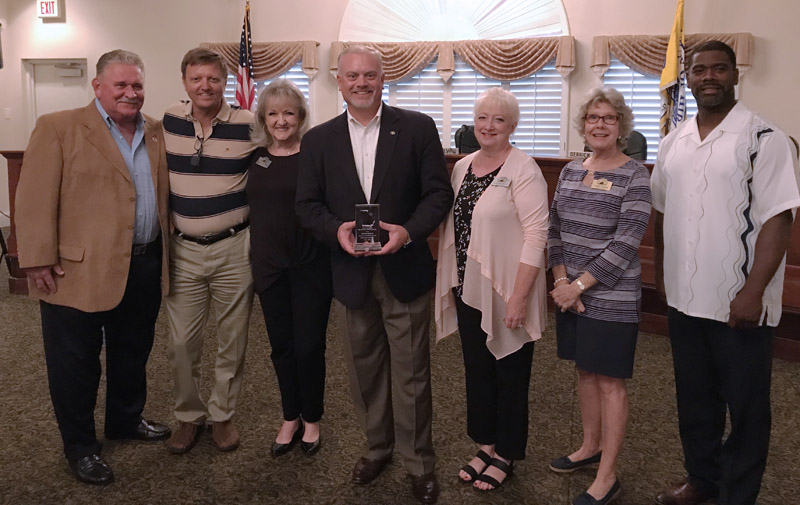 State Rep. Micah Gravley, R-Douglasville, recently received the "Champion of Georgia Cities" award from the Georgia Municipal Association (GMA).
The award, which is given at the end of every two-year legislative term to state legislators who actively support major GMA initiatives and goals, was presented to Gravley by GMA Government Affairs Dir. Tom Gehl on Oct. 2nd at the Hiram City Council Meeting. Gravley, whose state House district includes west Douglas and south Paulding counties, received the same honor the next week at the Oct. 11 Douglasville City Council Meeting.
Gravley is recognized by GMA for his leadership in crafting a workable compromise to create affordable firefighter cancer insurance benefits. The Firefighter Cancer Insurance Bill (House Bill 146) requires cities and counties to maintain insurance benefits that would provide a lump sum payment to any firefighter diagnosed with certain types of cancer depending on severity and up to three years of disability payments to firefighters who, because of injury or illness, cannot work as a firefighter.
"We greatly appreciate Rep. Gravley's strong support for city government and his willingness to listen to our issues and concerns," said GMA Executive Director Larry Hanson. "Due to his strong leadership, brave firefighters protecting communities across this state will have meaningful insurance should they be diagnosed with cancer."
"I am deeply honored and humbled by this recognition. I want to thank GMA, Tom Gehl and Mayor Theresa Philyaw and the Hiram City Council members for all they did to honor our firefighters and welcome my family for this event." Gravley said in a statement.
"I couldn't have done this without the help and continued support of Paulding County Firefighters and Firefighters across the state," Gravley said. "My family is full of firefighters here in Paulding and in Cobb County. I've seen the effects of cancer up close and personal in the lives of firefighters my members work with." Georgia became the 39th state to pass legislation addressing this issue affecting firefighters and Gravley's HB 146 is now being looked at by other states wanting to duplicate the model.