Georgia Tourism Product Development Resource Team Returns to Paulding to Present Final Report
PAULDING COUNTY GA, [October 18, 2018] – The Georgia Department of Economic Development's Georgia Tourism Product Development (TPD) Resource Team will return to Paulding County on November 7 to present its final report. The TPD Resource Team is a statewide initiative that provides communities with the resources needed to identify tourism product and increase visitor activity throughout the community. The final findings will be shared at a public meeting at the Dallas Theater. Please join us for an informative evening. The Civic Center will be open at 6:00pm for a quick meet and greet. The TPD Team will give their report in the theater at 6:30pm.
"We were excited to have the opportunity to bring a Tourism Product Development Resource team to Paulding County," said Cindy Eidson, Director of Tourism Product Development at the Georgia Department of Economic Development. "We visited a number of sites, met with local leadership and explored new tourism opportunities across the county. We believe the final plan we are preparing to present will help the community to identify potential tourism opportunities that will spur and cultivate a sustainable tourism industry in Paulding County. We are grateful for the relationships we have established in this community and look forward to seeing how they implement our team's findings." Representatives from multiple state agencies who were part of the initial visit will return to the community to present and discuss their findings including their assessments of the tourism assets related to heritage and cultural tourism, nature-based tourism, agritourism, and retail development. The final report provides a strategy for initiating the development of a tourism-based economic sector in Paulding County.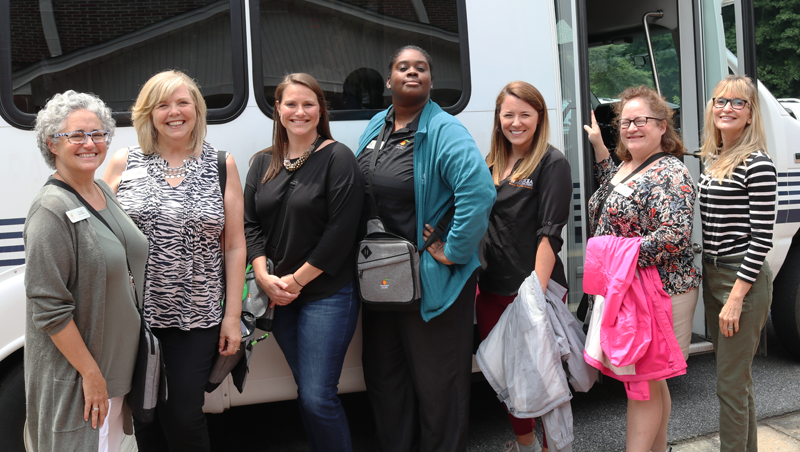 Georgia Tourism's Office of Product Development assists counties, cities and individual tourism partners in giving new life to existing resources and in fostering new tourism products within communities. Paulding County was selected to participate in a Product Development Resource Team following initial discussions and staff visits by the Georgia Tourism team. The original visit was conducted on July 16-18, 2018. The team visited numerous sites in Hiram and Dallas.
"The mission of the Paulding Chamber of Commerce is to enhance, support and advocate for a prosperous business community. For many years, our Chamber has been a big supporter and promoter of tourism in Paulding and it was our pleasure to organize and coordinate the State team's three-day visit in July. We are excited to hear their ideas and how we can partner with our local Economic Development office, the County and Cities to continue to support and promote our assets and businesses in an effort to help Paulding prosper."
– President Stacy Hamby, Chamber of Commerce
"The Board of Commissioners is excited to explore every avenue to help Paulding grow and succeed. We were honored to help host the State team and show off our great county! This is a wonderful opportunity to hear new ideas and ways to attract greater tourism to Paulding. The Board enjoys the strong partnerships with all the entities involved in making this happen and looks forward to more wonderful things to come."
- Chairman Dave Carmichael, Paulding County Board of Commissioners
The City of Dallas is committed to the prosperity of its residents and business owners by creating a charming and vibrant downtown friendly community, strong on southern hospitality. Visitors love to make Dallas their starting point to ride the Silver Comet Trail. With everything Dallas has to offer, we are excited to hear the recommendations from the State that will encourage even more visitors to Dallas.
- Mayor Boyd Austin, City of Dallas
It was Hiram's pleasure to host the State team's visit and show them all that our dynamic city has to offer. We are excited to learn how Hiram can generate even more tourism that would add to our already outstanding quality of life. We invite you to visit our quaint historic downtown and beautiful park, or shop in all the modern stores we have to offer.
- Mayor Teresa Philyaw, City of Hiram
About GDEcD
The Georgia Department of Economic Development (GDEcD) is the state's sales and marketing arm, the lead agency for attracting new business investment, encouraging the expansion of existing industry and small businesses, locating new markets for Georgia products, attracting tourists to Georgia, and promoting the state as a destination for arts events and location for film, music and digital entertainment projects, as well as planning and mobilizing state resources for economic development. www.georgia.org