Georgia Department of Human Services Launch Paulding Parental Accountability Program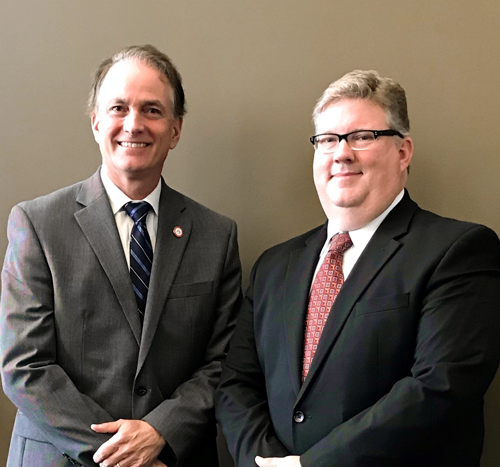 Georgia Department of Human Services has launched a Parental Accountability Program (PAC) in Paulding County. The program held a ribbon-cutting event earlier this month at the Paulding County Courthouse.
"We are very excited about this program and the partnership with other organization to address underlying issues that make it difficult for non-custodial parents to meet their financial obligation in providing child support," explained Marshel Riley program coordinator, with the Georgia Dept. of Human Services. Riley, contacted by phone last week, said the program is starting with five participants and has not set a limit as to how many the PAC coordinators may work with.
The PAC Program uses community resources and judicial oversight to address barriers that keep parents from meeting their support obligations.
The program is not funded with federal money, as are other accountability courts, but instead, the program seeks resources within the community to help participants re-establish themselves, Riley explained.
PAC assists non-custodial parents with barriers to self-sufficiency through parent accountability, employment, and education. Services offered include substance abuse treatment, job assistance, and placement, short-term training, coaching and mentoring, educational services, and Georgia Work Ready, as an alternative to incarceration.
"With 10,000 cases here in Paulding County there are plenty of opportunities for this program to be a benefit," Riley commented prior to the day of the ribbon-cutting event.
Paulding County Superior Court Judge David Lyles attended the program's ribbon-cutting event. Lyles will provide the judicial oversight, which is done less formally than an in-court session, and one-on-one with participants, Riley said.
Each program, including services provided to participants, is tailored to the needs of the local community. Superior Court Judges provide judicial oversight and collaborate with PAC coordinators to implement the program. PAC coordinators connect participants to existing community resources.
The PAC program is a joint effort of the Division and Superior Court Judges to offer an alternative to incarceration and to help chronic nonpayers of child support make regular payments.
From L to R: Paulding County PAC Coordinator Marshel Riley, Flint County Superior Court Judge Brian Amero, DHS Deputy Commissioner and General Counsel Tonya Curry, Paulding County Superior Court Judge David Lyles, DCSS Deputy Director John Hurst, SAAG William Pike, PAC Program Manager Wende Parker.