Dena Payne, director of Highland Rivers' disability services, graduates from prestigious DBHDD Management Academy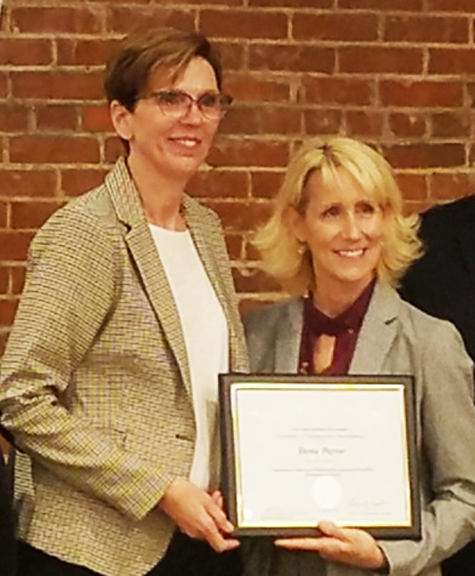 DALTON, Georgia - January 10, 2019 - Highland Rivers Health is congratulating Dena Payne, MBA, director of intellectual developmental disability services at the agency, on her recent graduation from the Department of Behavioral Health and Developmental Disabilities (DBHDD) Management Academy.
The Academy was developed in 2014 by DBHDD in partnership with the University of Georgia Carl Vinson Institute of Government as a specialized professional development resource for current and future leaders. The six-month curriculum is limited to only 25 participants per session and is offered two times each year. Management Academy graduates are recognized as being among the top leaders in the behavioral health and disability fields in Georgia.
"Dena is a leader who will roll up her sleeves and do whatever is needed - and she refuses to accept anything less than the best for the individuals we serve," said Melanie Dallas, CEO of Highland Rivers Health. "But along with her work ethic, Dena also has a level of compassion and empathy, along with a strong moral compass, that sets an example for our intellectual and developmental disability programs, and our agency as a whole."
A Navy veteran, Payne joined Highland Rivers Health in 2001 and has served in various leadership positions, including management information systems director and director of operations. The Dalton resident began in her current position as director of intellectual and developmental disability services in 2014, and recently completed a second master's degree, in human services counseling and executive leadership at Liberty University.
Department of Behavioral Health and Developmental Disabilities Commissioner Judy Fitzgerald (right), presents a diploma to Dena Payne, director of intellectual and developmental disability services at Highland Rivers Health, upon her completion of the DBHDD Management Academy last month.
About Highland Rivers Health
Highland Rivers Health provides comprehensive treatment and support services for adults, children and families, and veterans affected by mental health disorders, intellectual developmental disabilities and addictive disease. One of the state's largest public safety net providers, Highland Rivers operates more than two-dozen treatment facilities across a 4,400-square mile area of Northwest Georgia that includes Bartow, Cherokee, Fannin, Floyd, Gilmer, Gordon, Haralson, Murray, Paulding, Pickens, Polk and Whitfield counties, and serves nearly 16,000 individuals annually. Highland Rivers is accredited by the Commission on Accreditation of Rehabilitation Facilities (CARF) and is a Tier 1 safety net Core Provider for the Georgia Department of Behavioral Health and Developmental Disabilities. For more information, visit http://highlandrivershealth.com.