Tom Graves Named Republican Leader of Committee on Congressional Modernization
Committee will Help Representatives Better Serve Constituents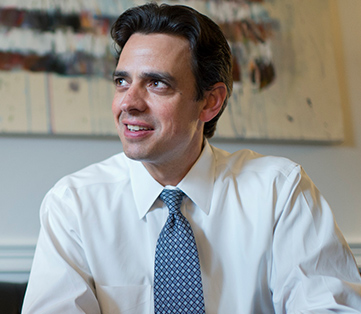 Washington, D.C. – Today Rep. Tom Graves (R-GA-14) announced he will serve as Republican Leader of the new Select Committee on the Modernization of Congress. Graves will join Rep. Derek Kilmer (D-WA-06), Chairman, and 10 other Members of the House who are tasked with studying, investigating and suggesting modernization procedures to the 116th Congress.
Their efforts will include recommendations on rules to promote a more modern and efficient Congress; procedures, including the schedule and calendar; policies to develop the next generation of leaders; staff recruitment, diversity, retention, and compensation and benefits; administrative efficiencies, including purchasing, travel, outside services, and shared administrative staff; technology and innovation; and the work of the House Commission on Congressional Mailing Standards.
"As technology rapidly evolves, it's important to give every member of the House access to new resources that will help them better serve their constituents," Rep. Graves said. "It's my goal to ensure this team is able to identify ways to serve the American people more effectively and efficiently while ensuring we also have the tools to recruit and retain top talent. I look forward to working with Chairman Kilmer and my fellow committee members to bring much-needed change and innovation to the House."
"It's clear now, more than ever, that the House is a fixer-upper. Americans deserve a government that works. I am excited to get to work with my colleagues on both sides of the aisle who got appointed to the Select Committee on the Modernization of Congress," said Rep. Kilmer. My colleagues bring diverse backgrounds and perspectives to the Committee, and they have a proven track record of increasing transparency in government. Soon the Committee will work across the aisle to create bipartisan, lasting change to modernize Congress and get it working for the people again."
The Select Committee was created in a package of House rules changes at the start of the 116th Congress.
The Members are:
Chairman Derek Kilmer (D-WA-06)
Republican Leader Tom Graves (R-GA-14)
Congresswoman Zoe Lofgren (D-CA-16)
Congressman Rodney Davis (R-IL-13)
Congresswoman Susan Brooks
(R-IN-05)
Congressman Rob Woodall (R-GA-07)
Congressman Emanuel Cleaver (D-MO-05)
Congresswoman Mary Gay Scanlon (D-PA-05)
Congressman William Timmons (R-SC-04)
Congresswoman Suzan DelBene (D-WA-01)
Congressman Dan Newhouse (R-WA-04)
Congressman Mark Pocan (D-WI-02)
"It is a great privilege to name these outstanding Members of Congress to the House's new Select Committee on the Modernization of Congress. Our new Members are pioneers and innovators with proven track records of achievement in making our institution more transparent, unifying and responsive to the needs and aspirations of the American people. With Congressman Kilmer at the head of the table, this Select Committee will strengthen and reinvigorate our institution, advancing a House of Representatives that is diverse, dynamic, oriented toward the future and committed to delivering results For The People," said Speaker Nancy Pelosi.
"This committee cuts to the core of what the House of Representatives strives for every day: a direct conversation with the American people in an effort to solve problems and make our country and communities better. Technology has unquestionably improved House productivity, but we must aspire to do better when it comes to connecting with and serving the American people. Achieving that will require leadership that is forward-thinking and bold. I couldn't think of a better member of our conference than Tom to lead this institution into a new era of effective, efficient, and accountable governance," said Leader Kevin McCarthy.