Alternative Baseball's Taylor Duncan awarded by Georgia Sports Hall of Fame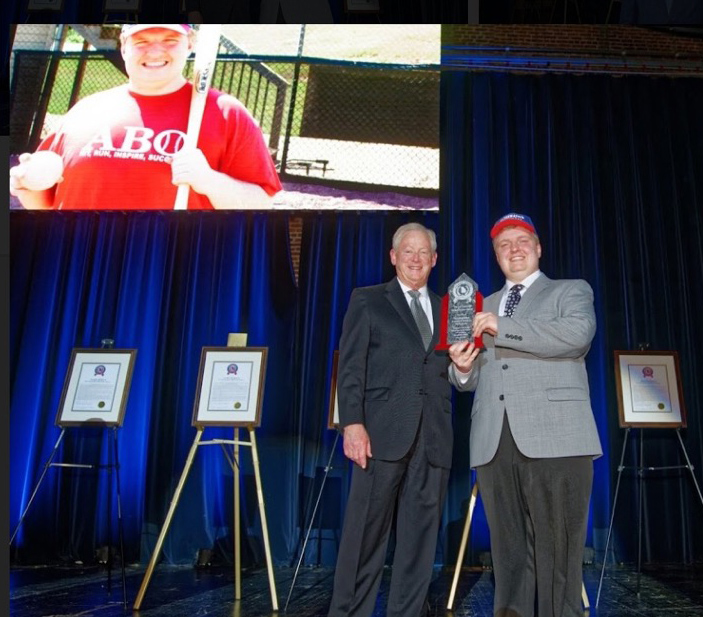 MACON, Ga. -- The Georgia Sports Hall of Fame held its yearly Induction Ceremony with some of the State's biggest names enshrined in sports history: Mark Teixeira, Calvin Johnson, Takeo Spikes, Gary Stokan (the president of the Chick-Fil-A Peach Bowl), and Ernie Johnson, Jr. to name a few… Alongside the inductions, the Georgia Sports Hall of Fame also recognized one Georgia native who has broken barriers and powered through perceptions to contribute to communities across America.
During the 2019 Induction Ceremony at the Georgia Sports Hall of Fame, Taylor Duncan, 23, was awarded the annual J.B. Hawkins Humanitarian Award for commendable contributions to the autism and special needs communities across the State of Georgia and beyond. Duncan, himself, was diagnosed with autism spectrum disorder (ASD) at the age of 4. He battled through anxiety issues, speech issues, and social stigma growing up. He dealt with perceptions from those who thought they knew what one with autism can and cannot accomplish. Today, Duncan shares his positive experiences with other teens and adults with autism and special needs through America's Pastime… Baseball!
He started Alternative Baseball in rural-suburban Dallas, GA in 2016, a program providing an authentic baseball experience for teens and adults ages 15 and over. The program strives for physical and social skills enrichment for both on and off the baseball diamond! He's now spreading the mission all across America with existing teams in metro Atlanta (Powder Springs, Dallas, Newnan, and Buckhead), along with new teams in the Greater areas of Chicago, Colorado Springs, Columbus/Phenix City, Auburn/Opelika, Chattanooga, Spartanburg/Upstate South Carolina, Ormond Beach, West Palm Beach, Fort Myers, Phoenix, Huntsville, Washington D.C., Baltimore, Cedar Rapids, Tacoma, with many more to be started across the United States and Canada. Taylor Duncan is slated to speak at TedXAtlanta in March of 2019 at the Rialto Center in Downtown Atlanta. Through this gratifying and rewarding experience, Duncan hopes to continue expansion efforts into new communities, townships, and neighborhoods. For more information on how to sign up as a player or to become a manager/start a new program in your area, please log on to www.alternativebaseball.org for more information.