Easter Egg Drop Brings All Ages to Pickett's Mill Baptist Church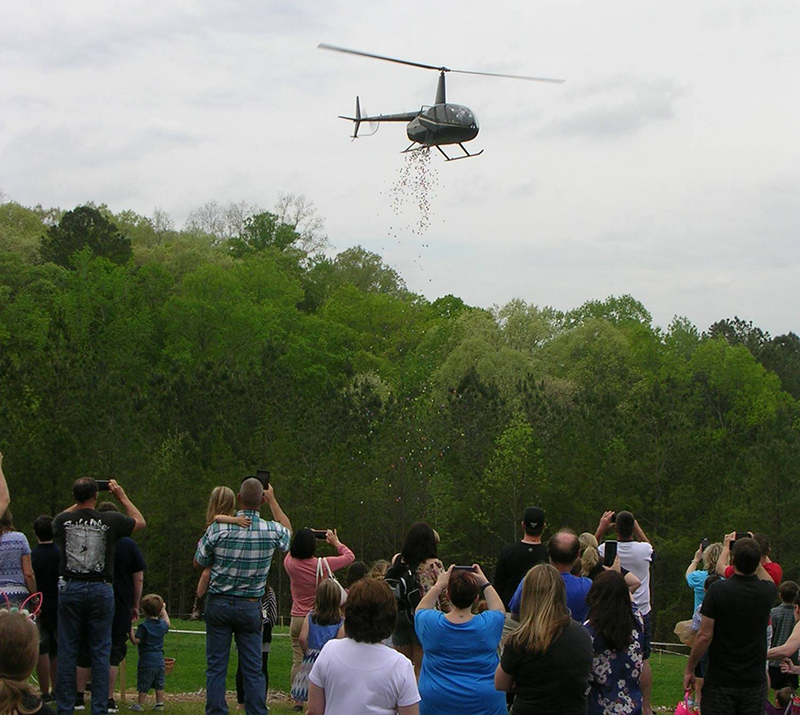 Pickett's Mill Baptist Church hosted an Easter egg drop in Dallas last Saturday that was attended by both youngsters and seniors. A helicopter dropped 5,000 eggs from 12 55-gallon bags. Three prizes awaited the finders of the winning eggs.
Pickett's Mill Pastor Johnny Nix has been at the church for about two years. He said the event was the first time they'd done an Easter egg drop and the real purpose for the event is intended largely to promote both the Easter Sunday services on April 21st at 9 a.m. and 10:45 a.m. and to encourage younger families in the community to visit the church.
Last year's services brought a record crowd of 500 people and this year's goal is about 700, Nix said.
"Our directive at Pickett's Mill Baptist Church [is] we want to reach out to families who are trying to find their way in life, need spiritual help, we've got great ministries here for children all the way up through senior adults; we just want to make sure we're doing everything we can to reach every generation, and be a multi-generational church in days to come," he said.
Pickett's Mill Baptist Church is located at 7147 Hiram Acworth Hwy in Dallas. More information on the church is available on their website at: https://www.pmbchurch.net.