County moves Paulding Veterans monument to Watson Government Complex site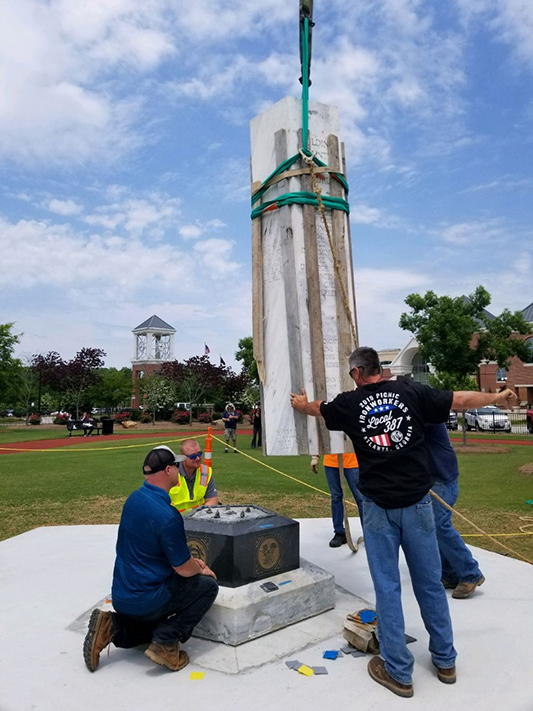 Paulding County workers last week completed the process of moving the county's Veterans Memorial monument from downtown Dallas to a park facing the county courthouse on the campus of the Watson Government Complex.
The new location is in Veterans Park adjacent to the county courthouse and county government office buildings, where all relocated in 2007. According to County Operations Director Scott Greene, a formal dedication is set for Memorial Day on May 27.
Greene, who previewed the process in an email message, said contractors were set to disassemble the obelisk-shaped monument last Friday morning and load it for transport. They then used a 100-ton crane to reassemble it at its new home in Veterans Park by early afternoon.
Greene said the largest piece, which is a 9-foot object, weighs 3 tons but required a crane because of the logistics involved in carefully placing it at its new location next to the park's main pavilion. Traffic and pedestrians traversing the Watson campus were only briefly impeded for equipment setup and maneuvering.
The memorial was dedicated in 1996 at the site it was moved from on Watson Drive behind the Winn Building, which is part of the Georgia Highlands College's Paulding site in downtown Dallas.
American Legion officials told Paulding's Board of Commissioners recently they wanted to move the monument to a more visible location. When built, it was in the middle of an area more frequented by area residents because it was adjacent to the former location of county government offices and the courthouse and was across the street from the Regent's bank building and IBA offices.
Paulding County workers last week moved the county's Veterans Memorial monument from downtown Dallas to a park facing the county courthouse on the campus of the Watson Government Complex. (Photo(s): submitted/S. Greene)