Chattahoochee Tech Paulding Engagement Team Supports Relay for Life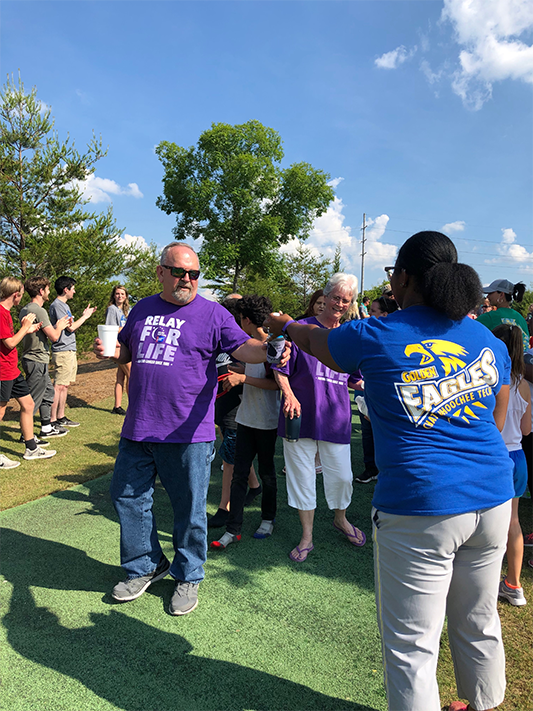 (Acworth, Ga. – May 20, 2019) The Chattahoochee Tech Paulding Engagement Team supported the Paulding County Relay for Life event on Saturday, May 18, by giving out water to event participants. This year's event was held at the Watson Government Complex in Dallas and featured a Survivor/Caregiver Walk along with a luminaria ceremony.
"We were very glad to be involved in this inspirational event which is so important in offering comfort and hope to those who have been affected by cancer," said Chattahoochee Tech Executive Director of Admissions and Records Missy Cusack.
Relay for Life is a community-based fundraising event that helps to raise funds for cancer research, as well as help cancer patients and their families have access to the care they need, according to the American Cancer Society. Each year, more than 5,000 Relay for Life events take place in over twenty countries.
For more information, visit www.ChattahoocheeTech.edu.
About Chattahoochee Technical College:
A unit of the Technical College System of Georgia, Chattahoochee Technical College is the largest technical college in the state with more than 14,000 students enrolled in the past academic year. The college has eight campus locations serving the counties of Bartow, Cherokee, Cobb, Gilmer, Paulding, and Pickens. CTC provides high quality, easily accessible college education at a fraction of the cost of other area colleges and universities. Chattahoochee Technical College awards certificates, diplomas and associate degrees in more than 50 programs of study through traditional classroom courses as well as online training. The college also provides the community with learning opportunities, including customized workforce training, adult literacy and continuing education programs. More information is available at www.ChattahoocheeTech.edu.