Paulding County Veterans Monument Rededicated at Veterans Park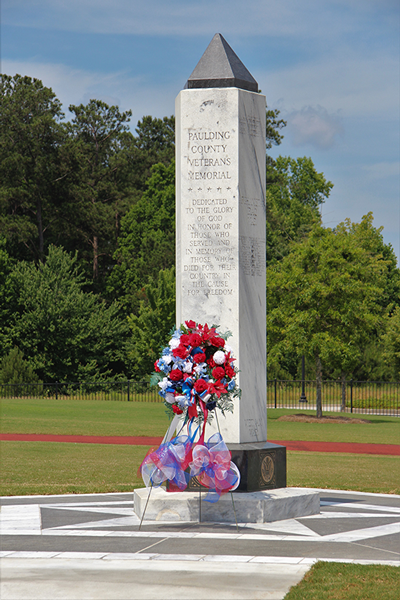 The Paulding County Veterans Monument was rededicated at its new location in Veterans Park on Memorial Day. The monument was recently moved from a small park behind the Winn Building where it has been located for the past twenty-five years. The local American Legion, Post 111 in Dallas, requested that the monument be moved from their property to a more visible location in Veterans Park. With the support of Paulding County officials, a new site was selected in Veterans Park where it would be a visible reminder to honor all members of the United States military who have died for our country. The monument is engraved with the logos for all five branches of the military, the Air Force, Army, Coast Guard, Navy, and Marines. It is inscribed with the names of eighty-one service members from Paulding County who perished in World War I, World War II, Korea, Vietnam and in the Middle East.
Many veterans, local officials, supportive citizens and those who worked on the project, were in attendance at the inaugural Memorial Day Service in Veterans Park. The service began with a welcome by American Legion Post 111 Commander, Bill Fleisch, followed by a presentation of colors by members of the Paulding County Sheriff and Fire Department Honor Guards. The National Anthem was then sung beautifully by Ms. Tabitha Ketchum. Mr. William McPherson, Chaplain of American Legion Post 111, then provided the invocation.
Prior to introducing the guest speaker, Mr. John Black, chairman of the American Legion Post 111 Monument Relocation Committee, directed Mr. Frank Black, Finance Officer at American Legion Post 111 and Dr. Jerry Rochelle, American Legion Post 111 Executive Board Member and a member of the Monument Relocation Committee, to unveil the monument.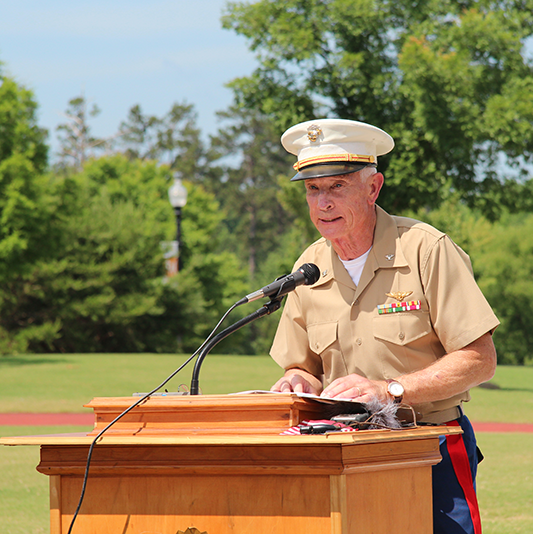 The keynote speaker, Paulding County Commission Chairman, Mr. Dave Carmichael, who is a United States Marine Corps Veteran, led the recitation of the Pledge of Allegiance. Mr. Carmichael stressed the importance of remembering those who died early deaths while serving our country. He spoke about the sacrifices made by the military members and their families for our freedom. Mr. Carmichael concluded with the reminder that freedom is clearly not free.
Next, American Legion Senior Vice Commander, David Altwies, placed a floral wreath at the base of the monument. A solemn Moment of Silence was observed in remembrance of the fallen service members, followed by the always impressive Twenty-One Gun Salute by the Paulding County Sheriff's Department Honor Guard under the direction of Lieutenant Randall Gravett. Amazing Grace was played on the bagpipes followed by taps. Chaplain McPherson then concluded the inaugural Memorial Day ceremony in Veterans Park with a closing prayer.
American Legion Post 111 and the Paulding County Veterans Memorial Committee send their sincerest thanks to everyone who assisted in moving the Paulding County Veterans Monument to its new home in Veterans Park to honor our fallen service members.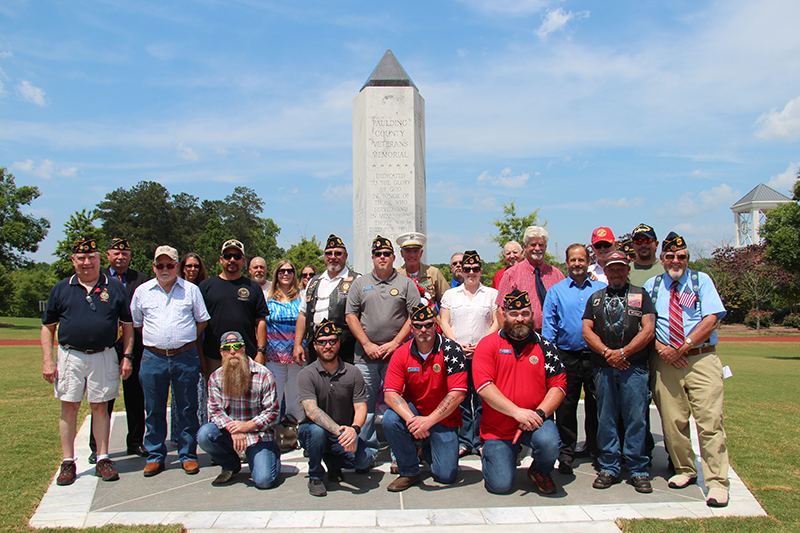 Photos: 1 – Paulding County Veterans Monument at Veterans Park 2 – Paulding County Commission Chairman, Dave Carmichael 3 - American Legion Post 111 Family & Friends
Photos & Story by: Sharon M. Fleisch