FAA hosts aviation career education at Paulding's Northwest Atlanta Airport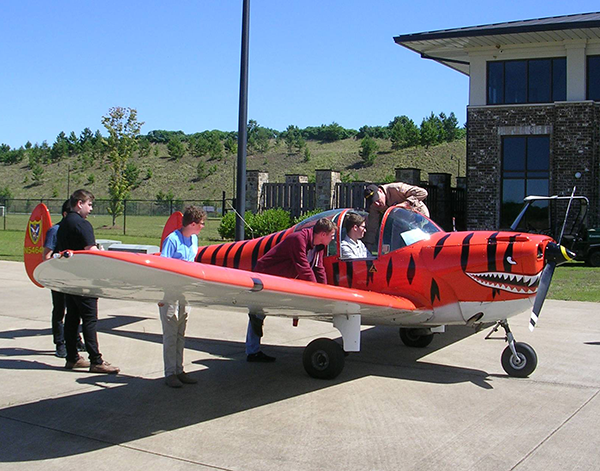 The FAA hosted its first aviation career education academy for metro high school students during last week at Paulding County's Northwest Atlanta Airport.
The academy, which ran Monday through Friday, is intended to become an annual event, according to Ricky Flores, an FAA safety inspector, who is a STEM Asset Program representative. Flores, along with others, volunteered his time last week to help conduct the academy. About 55 students spent the week at Paulding's Northwest Atlanta Airport. Fed-X, Delta, Navy, Air Force, the Flying Tigers, and other presenters talked about the aviation industry, did fly-bys and other presentations. About 20 organizations were involved, according to Paulding airport director Terry Tibbitts.
Flores said future enrollment will most likely increase once schools get involved in promoting the event. The academy was another step away from the aborted attempt to bring limited commercial service to Paulding's airport.
After almost five years of legal challenges from county residents, the city of Atlanta, and Paulding's previous Board of Commissioners, the FAA had opted to end consideration of commercial certification in mid-2018.
Sandy Kaecher, post 2 commissioner, the district that the airport is located in, attended the event and said the aviation career education week is another good example of ways to use Paulding's airport. "We're trying to show that the airport is here for a lot of reasons; it's a great place to have an event and we want to be making use of what we have here," she said. Tibbitts commented on the event and the new direction for Paulding's airport.
"We want to make this an education center for aviation. Our goal is to try to excite the next generation of aviators and get them enthusiastic about the opportunities, careers, and the fun. The pleasure that you can have out of aviation is an aspect of so much more than people are aware of, so we're trying to get that message out to the community," Tibbitts said.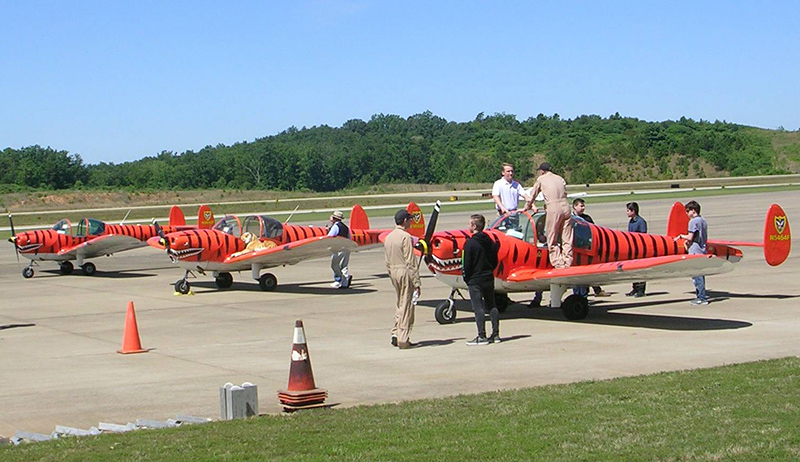 A member of the Tiger Formation Flight Team, Phil "Sunny" Cataldo said his group talk to kids about not just piloting planes, but piloting their own progress in life.
"We do a character development program...a flight plan for life. Stop and think about it, we're all flying from point A to point B; you're the pilot; you're in command of where you're going, you're responsible. And we really work hard on that message," he said. Flores said that the week serves to raise awareness with kids, whether they choose an aviation career path, or not.
"Whether they go into aviation or they go into nursing, medical, teaching or whatever, we want to provide students with an avenue that they can pursue, set their goals in, give them a running chance -- prior to the end of school to start thinking about it," Flores said. Flores also said the industry is reaching a transition stage in the workforce as baby boomers are reaching their retirement.
"We're going after the youth. And have them start thinking about what you could do in aviation. We have a huge void to fill, with retiring mechanics, and retiring pilots," Flores said. "So, there are so many avenues that aviation can go down...next year we're going to include other avenues."
In October 2018 former Gov. Nathan Deal announced plans for the construction of a $35 million state aviation maintenance training school on the Paulding airport property. With state funding in place, plans are said to be underway, but about two years out to complete the construction phase.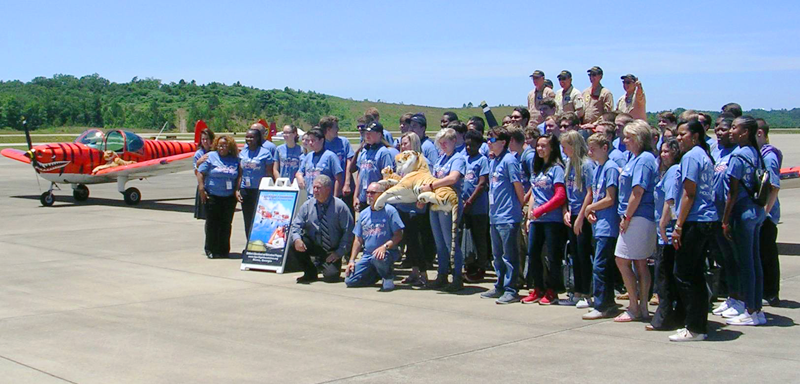 Metro high school students spent the week at Paulding's Northwest Atlanta Airport for first aviation career education academy. The Flying Tigers Fed-X, Delta, and other presenters talked about the aviation industry, did fly-bys and other presentations. (Photo(s): R. Grant)