Dallas' Hunter Aiken qualifies to Loretta Lynn's Amateur National Motocross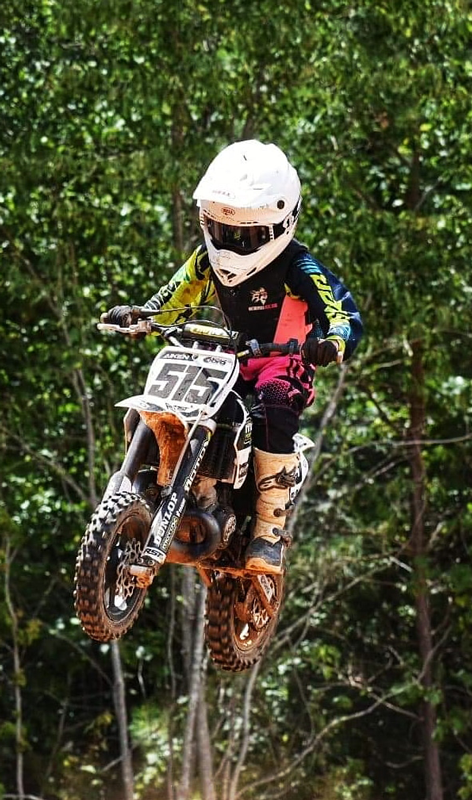 Hunter Aiken, AMA 5, from Dallas, Ga has qualified to Loretta Lynn's Amateur National Motocross Championship in Hurricane Mills, TN. This is the largest amateur race in the nation. He will be competing in the 51CC 4-6 Limited class with 42 of the fastest riders in the nation. Hunter currently has another year left in the 4-6 class, so he is already ahead of the game. The year starts like any other, chasing a dream while having some solid fun. Only this year there was a bigger mission, to make it to Loretta Lynn's Ranch. He has grown from local races to traveling all the way to South of the Border, SC for a regional that earned him his first ticket to the ranch at just six years old.
This all started as a fun hobby for Hunter and his dad, Justin Aiken, out of Dallas, Ga. They would ride through the yard and sometimes even the woods. Justin decided one day to take Hunter to his very first race at Calhoun Motocross when he was just 4 years old. From there, the hobby turned into a competitive spirit from the whole family. Never in a million years did his Dad think he would have taken off with the sport the way he did.
Once Hunter genuinely expressed that he was ready to jump in head first to race competitively, Justin got him his first serious dirk bike, the Cobra Jr. 50CC. Practice became necessary to improve the basics and mastering his skill set. Hunter jumped in headfirst. He took off and never looked back.
Hunter would like to give a huge thanks to his dad Justin for everything he has done and continues to do to make all of his dreams come true. He would also like to thank his mom, Amber for always supporting him. As well as his sister, Rylinn for always being on the fences cheering him on.
"My favorite part of riding my dirt bike is when I get to race and hit the doubles"
-Hunter Aiken