Paulding WellStar Volunteer Auxiliary Presents Donation, Scholarships and Service Awards
WellStar Paulding Hospital's Volunteer Auxiliary held their annual event on June 26th and recognized service hours from volunteers, awarded scholarships, and presented a donation of $115,000 to the WellStar Foundation at the Paulding Chamber offices in Dallas.
This year's donation increased by $10,000 over last year's.
According to Lisa Porter, manager, WellStar Paulding Volunteer Services, who responded by email following the event, "We typically do not set a goal but we do look for at least a 5 percent increase each year."
Paulding WellStar President John Kueven told volunteers at last year's event that the money saved the hospital through their efforts is "vital to operations" [and] "...as you all know, that goes directly back to serve our community," he said.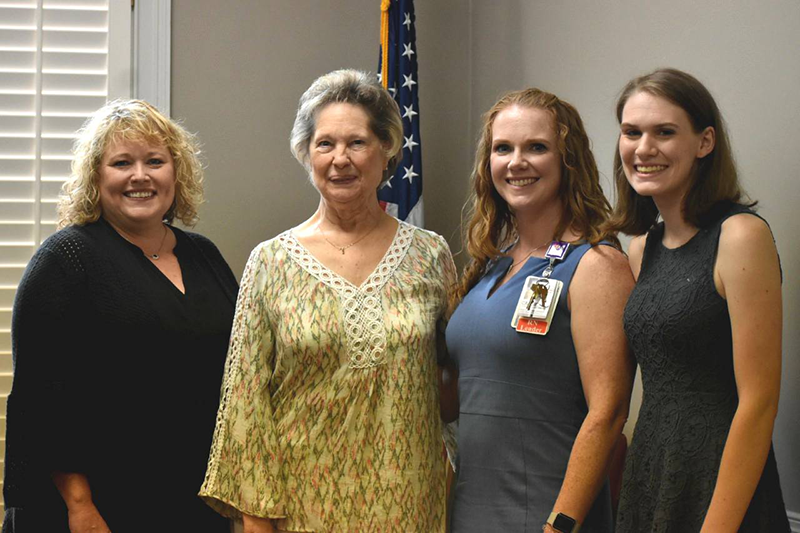 This year's donation added to last year's cumulative total donation to the foundation of about $700,000.
WellStar volunteers were recognized for service ranging from 100 hours up to more than 10,700 hours. Collectively the volunteers have worked over 18,000 hours in the past year, Ms. Porter said.
Volunteers work in everything from the hospital's gift shop, emergency department, free information desk, on in-patient floors, and elsewhere. Volunteers may work with patients, doctors and/or visitors to the hospital, and at WellStar's 180-bed nursing and rehab facility in non-licensed tasks.
Poster said applicants to volunteer are never turned away. "We are always accepting applications for volunteers, but have limited spaces right now," she said.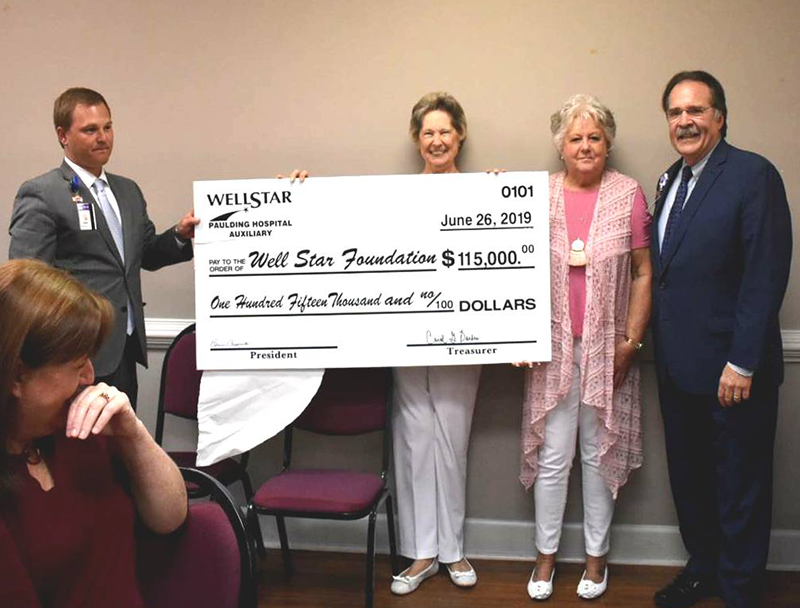 Also, four Sally Purcell Scholarships were awarded to local students. Scholarship recipients were Amber Boatright, Cassie Allen, and Gladys Mutura. Each scholarship was for $1500.00, according to Porter.
The state-of-the-art WellStar facility in Hiram opened in April 2014, with 56 beds and 40 emergency exam rooms and an emergency department, cancer center, women's imaging, surgical and other healthcare services. The hospital has seen some expansion since then. Paulding WellStar president John Kueven was named as senior vice president and president of WellStar Paulding Hospital in 2017. Kueven previously headed Memorial Herman Katy hospital near Houston, Texas. He succeeded Mark Haney, who headed the hospital from 2009 until October of 2017 when he became the not-for-profit health system's senior vice president of Real Estate, Facilities, and Development Services.
For additional information regarding the adult program, contact the volunteer services department at 470-644-7108, or go to the volunteer link at WellStar.org and apply to the location interested in.
1.) Volunteer President Pat Ruppenicker with Sally Purcell scholarship recipients (Left to Right) mother of Amber Boatright, Pat, Cassie Allen, Anna Ragsdale, and (not pictured) Gladys Mutura. (Photo: submitted/WellStar)
2.) Left to right: Paulding WellStar President John Kueven, Volunteer President Pat Ruppenicker, Audrey Watts, Volunteers president-elect and Gene Weeks Wellstar Foundation development director. (Photo: submitted/WellStar)