Hiram High School graduate and Powder Springs Native Earns Navy and Marine Corps Achievement Medal (NAM)
DAHLGREN, Va. – Fire Controlman Aegis 1st Class Shane Freeman, a 2011 graduate of Hiram High School and native of Powder Springs, Ga., received a Navy and Marine Corps Achievement Medal (NAM) during an awards ceremony at the AEGIS Training and Readiness Center (ATRC) on Aug. 23.
Freeman has been an instructor and SPY course supervisor at ATRC since December 2018. "I feel as an instructor, I am not only shaping the present Sailor but the future of the Fleet as well," said Freeman. "I am honored to receive this award and it is a privilege to teach the future of the Navy."
The NAM is a decoration presented by the United States Department of the Navy to service members of the U.S. Navy and Marine Corps who have performed commendably in routine duties or exceptional achievements.
Freeman, who has been in the Navy for eight years and has a bachelor's degree in Business Administration, will soon be a student at the Officer Training Command in Newport, R.I. Although he is looking forward to attending officer candidate school and becoming an officer, Freeman will miss ATRC.
"I really enjoyed teaching junior Sailors the knowledge and skills required to maintain and employ AEGIS combat system tactics to provide fleet safety," he said. "I also loved motivating and mentoring my students."
He is the son of Todd and Jane Freeman who reside in Powder Springs, Ga. Freeman is married to Tiffany and they are parents of one child, Elizabeth.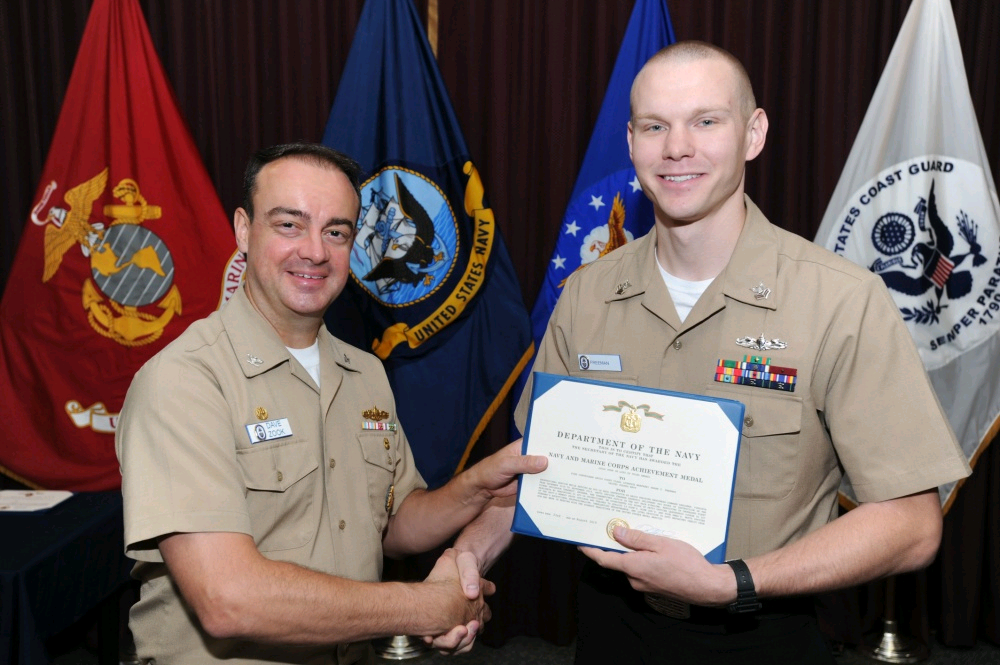 ATRC is the Integrated Air and Missile Defense Center of Excellence for the Center for Surface Combat Systems (CSCS). ATRC provides Sailors with the knowledge, ability, and skill to operate and maintain the AEGIS Combat System through timely, effective, and integrated training delivered across Sailors' careers. ATRC also provides Officers the knowledge, ability, and skill to operate, employ, and assess the readiness of the AEGIS and Ship Self Defense System (SSDS) combat systems aboard surface warships.