CareLink Health Center Seeks Help to Manage Growing Patient Load
CareLink Health Center in Dallas is actively seeking more staff volunteers to help meet a growing number of requests for care. Located at 625 W. Memorial Dr. in Dallas, CareLink of Northwest Georgia officially opened last year and has just passed its 10th month of being open for business.
Since opening, the clinic has relied on patient word of mouth, Wellstar Paulding Hospital, and the Paulding County Department of Public Health for clinic referrals. Hours of operation since opening have been Tuesday and Saturday mornings from 8:30 a.m. – 12 p.m. But while calls for appointments have been increasing the number of volunteers has been declining.
According to Rita Norris Chair, Board of Directors with Carelink, the clinic has been struggling to keep up with patients and needs to recruit some additional staff.
"When we initially opened, CareLink had many individuals expressing an interest in volunteering for the nursing and front office positions. Our provider numbers have always been less although enough for us to be fully staffed each day open. With time, the number of volunteers has diminished in all areas (provider, nurses and front office) for a variety of reasons," Norris explained, who responded in an email.
"As the only non-profit 100% volunteer-run primary care medical clinic in Paulding County serving the 18 to 65-year old residents without insurance, our acceptance by these residents has now exceeded our ability to serve them as effectively as we would like," Ms. Norris said.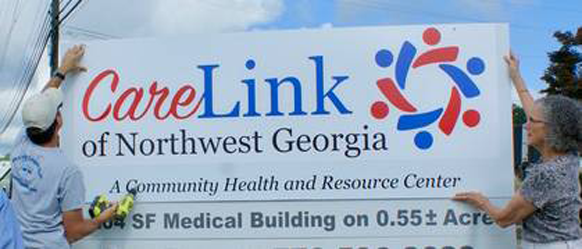 CareLink initially received and treated one to three patients a day. Now CareLink is treating nine to 13 patients every day open. "Our phone volume of requests for appointments started out at one to three calls a week. We're now up to one to three calls a day with some very heartbreaking issues that our potential patients are facing and sharing over the message in their desperate attempt to get in to be seen by a provider. We now have a waiting list of potential patients desiring to be seen," Norris said.
Norris said the need for help has been impacting access. "CareLink has not been able to be open most Saturdays since early July due to not having a provider (MD or NP). This breaks our hearts as the need and patient acceptance has grown, while our volunteer numbers have diminished," she said.
Norris said that CareLink needs help in order to satisfy their mission of serving the most medically vulnerable residents of the county that either doesn't have insurance through their jobs or cannot afford self-pay insurance.
"If you are a Doctor or a D.O. [osteopathic physician] that has a license in good standing, would or could you consider volunteering ideally one time monthly, but if not monthly, possibly once a quarter?"
"If Tuesday or Saturday is not appealing, would you be willing to offer your expertise another day or early evening? To support the physician or nurse practitioner, we need a nurse or medical assistant and two to three front office personnel," she said.
Paulding County is ranked 95th out of 159 Georgia counties for health care. With 19,000 adult residents without insurance, the primary care clinic that CareLink is today makes it an invaluable resource for both the individual and the county's quality of life, Norris noted. "The Wellstar Paulding Hospital ER has historically been many of these patients primary care center. But this is self-defeating for both the patient and the 'true' purpose of an E.R. CareLink provides a compassionate, holistic approach to the patient's health," Norris said.
Contact Rita Norris at 404.536.8762 or with questions or offers of help. Also, feel free to check out the website at www.carelinkga.org.