U.S. Rep. Tom Graves at McClure Middle School for Google online safety event
U.S. Representative Tom Graves (R-GA-14) joined presenters from Google and local school officials last week at McClure Middle School for an event aimed at raising awareness among students on how to stay safe on the internet.
"With kids being exposed to so many things, not only on the internet but social media, creating an awareness of how to be safe in getting good practices for our kids is just critically important and a message everyone needs to hear," said Paulding County Schools Superintendent Brian Otott.
According to a press release issued by Google, The Online Safety Roadshow: How to Be Internet Awesome, is a Google program designed to educate parents and students on how to be smart, successful and safe online.
"With students having greater access to the Internet through cell phones, tablets, and other devices, it is important that they learn to use these tools responsibly," said Google spokesperson Jamie Hill. Graves opened the assembly by expressing the importance of online safety to the students and competing in the password faceoff challenge, where students are asked to come up with the strongest possible password.
Two Google employees delivered the 45-minute presentation, which focuses on five tips for staying safe and being smart online, including sharing with care, setting strong passwords, using settings on different websites and apps, identifying online scams, and being kind online.
Prior to the presentation Graves commented on the day's theme of online safety.
"I'm real excited to be here in joining with Google today to stress the importance of being safe online to students. We know how active students are on the internet and with the different applications on their phones; this is a really good opportunity to introduce them to some tricks and some tools to help them be safe as they interact with their friends," Grave said.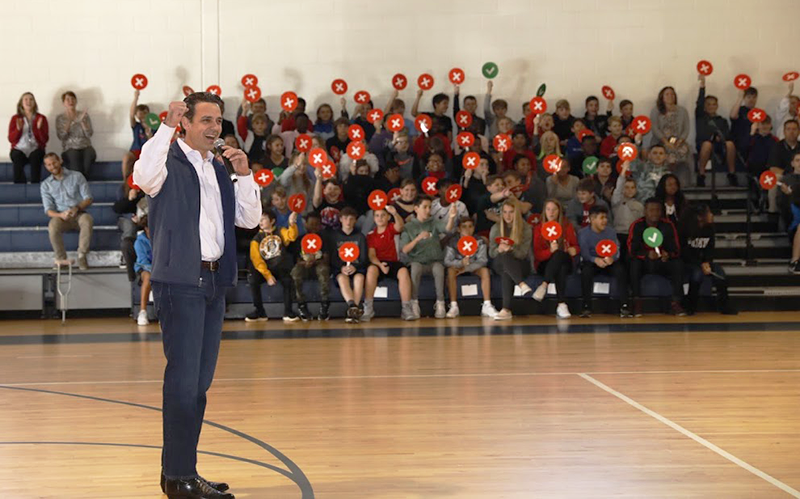 Graves acknowledged the changes with the internet experience since it first began.
"It's a great resource for everyone, but as with anything it has its dangers, but if you're safe and take certain tactics to protect yourself and others then it can be a great tool and a great resource and certainly a great economic opportunity for students in the future," Graves said.
And Jason Anavitarte, School Board Dist. 6, noted that the Internet is changing daily. McClure Middle School is a District 6 school. "Almost every facet of a student's life, even in the classroom, such as a digital component [involves] the internet, so whatever we can do to provide an education for our students and families to stay safe and [learn about] the dangers they need to be aware of while surfing Google or anything else, is important," Anavitarte said.
Graves represents Georgia's 14th Congressional District, which spans from the northwest borders with Alabama and Tennessee down to the suburbs of Atlanta. Through reapportionment Graves took over the Paulding County area from former representative Phil Gingrey.
The Online Safety roadshow is part of Grow with Google, an initiative to provide Americans of all ages with the skills they need to prepare for work, find a job or grow their business.
For more tips about how to keep yourself and your family safe online, visit: https://beinternetawesome.withgoogle.com/en_us.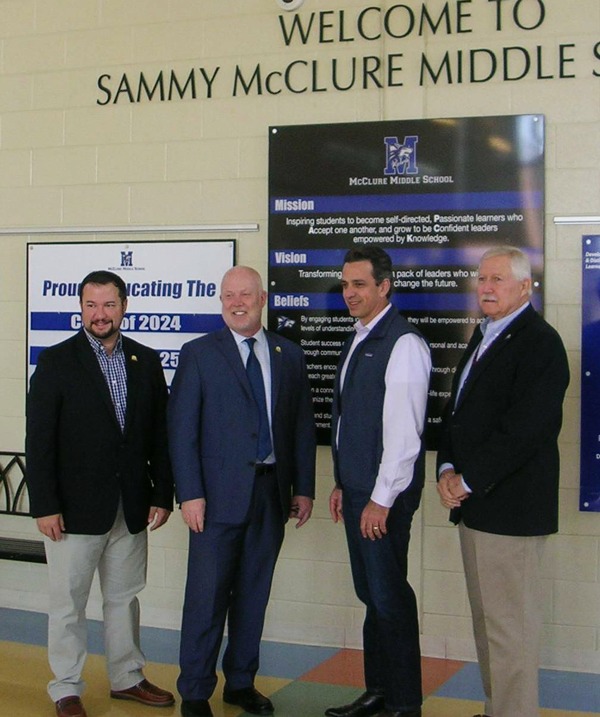 (Left to Right) Jason Anavitarte, School Board, Dist. 6, Paulding County Schools Superintendent Brian Otott, U.S. Representative Tom Graves (R-GA-14) and John Dean, School Board, Dist. 5. (Photo: R. Grant)
(Above) Rep. Graves works the crowd at McClure Middle School. (Photo: Google/ENKA LAWSON)