GreyStone Power employees win Lifesaving Awards
Seven GreyStone Power employees were honored by Georgia EMC with a statewide Lifesaving Awards at their Annual Meeting in Savannah on Nov. 11. The seven GreyStone Power linemen are among 14 employees from five EMCs in Georgia to be recognized with a Lifesaving Award, which recognizes EMC employees whose quick thinking and actions are instrumental in safeguarding others from dangerous or potentially deadly situations.
Swift action helped Brett Corley, a lead lineman, save his brother-in-law at a family dinner. Corley's brother-in-law took a large bite of food, and his face became blood red. Corley thought it might be a joke at first until his brother-in-law spit his mouthful of food on the floor. He then realized that his brother-in-law was really choking. Everyone froze, but Corley stepped in and started performing the Heimlich maneuver.
As Corley started the maneuver, he did a few thrusts, but nothing was coming up. After one big thrust, the food came up and his brother-in-law's wife pulled out a piece of meat that was about four inches long from the man's mouth. He later thanked Corley and said he has never choked like that before and that it scared him because he thought he was going to die.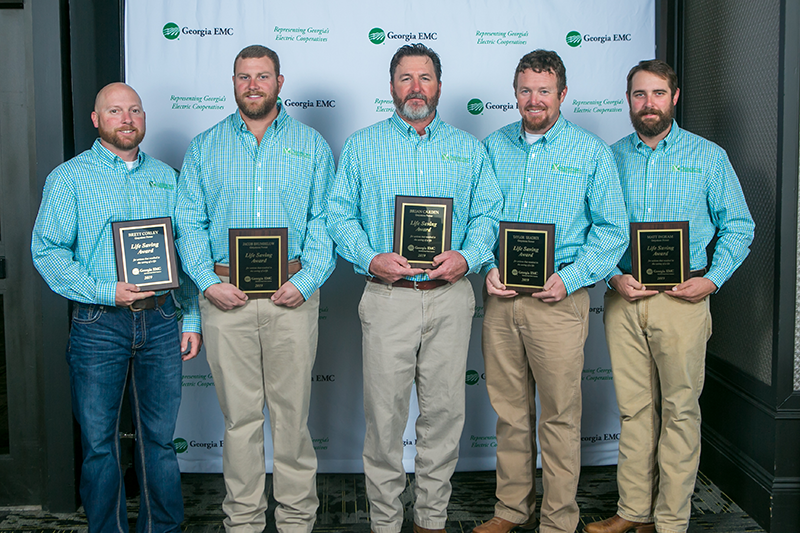 Quick thinking and actions by the GreyStone Power linemen crew of Jacob Brumbelow, Brian Carden, Nabil Chabayta, Austin Frazier, Matt Ingram, and Taylor Shadrix saved the life of a woman trapped in a burning vehicle.
The workers came upon a horrific wreck at an intersection. A car had rear-ended a truck and flipped onto its roof, trapping the driver inside. Chabayta and Ingram raced to get fire extinguishers, while Shadrix and Carden tended to the driver, who was bleeding, unconscious and trapped by her seatbelt. The two donned gloves to protect themselves.
Meanwhile, Brumbelow and Frazier put on their flagging vests and used their flags and stop/go paddles to control traffic around the accident scene.
"The woman was hanging upside down, so we had to cut the seatbelt carefully and support her while we laid her on a heavy tarp," Shadrix says.
An ambulance crew and police arrived soon after, and the GreyStone crew assisted in putting the woman in the ambulance and handed off flagging duties to the police.
"There's not a person at GreyStone who wouldn't do the same thing for anybody who needed help," says Shadrix.
Georgia EMC is the statewide trade association representing the state's 41 electric cooperatives, Oglethorpe Power Corp., Georgia Transmission Corp., and Georgia System Operations Corp. Collectively, Georgia's customer-owned co-ops provide electricity and related services to 4.4 million people, nearly half of Georgia's population, across 73 percent of the state's land area.
GreyStone Power is a member-owned cooperative providing electricity and related services to more than 119,000 members in eight counties, including portions of Paulding, Douglas, Fulton, Cobb, Carroll, Bartow, Fayette and Coweta counties. Learn more at www.greystonepower.com.