2019 Invitational Dallas Christmas Parade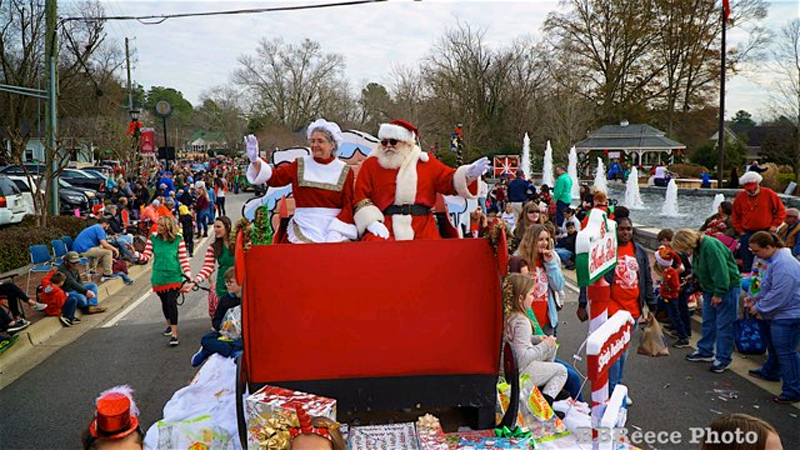 Saturday, December 7, 2019, this past weekend marked the 27th Annual Invitational Dallas Christmas Parade. Presented by the Paulding County Rotary Club in cooperation with the City of Dallas, Dallas Police Dept. and the Paulding Sheriff's Dept. This year our parade was blessed with a clear day, as opposed last year's rain. We estimated approximately 20,000 to 23,000 residents attended the parade this year, and we thank each of you for making this such a terrific event.
Paulding County's PC 23 recorded the parade and will be broadcasting it very soon and in time for Christmas. We will announce it on social media as soon as it is available.
This year our parade theme was "Connecting the World" and in keeping with this theme, our Grand Marshal was Caroline Gransbo our GRSP student from Sweden and Paulding County Teacher of the year Chelsea Sell.
Thank you to all of those local groups, churches, and businesses that participated in the parade, especially for the hard work and effort that you put into your floats. Every entry was a great representative of our county. Special thanks to all the organizers and volunteers who participated and helped this year's parade to be a truly successful event.
The Invitational Christmas Parade sponsors Paulding Christmas Inc. a non-profit 501 ©3. A small volunteer organization whose goal is to provide "new" toys to the less fortunate children of Paulding county. To be qualified the parent or guardian is required to complete an application providing proof of residency and income. They follow the poverty guidelines for our area. If you receive assistance from DFACS or have a very low income you qualify.