PAULDING COUNTY FARM BUREAU FINALIST FOR STATE AWARD MACON, Ga.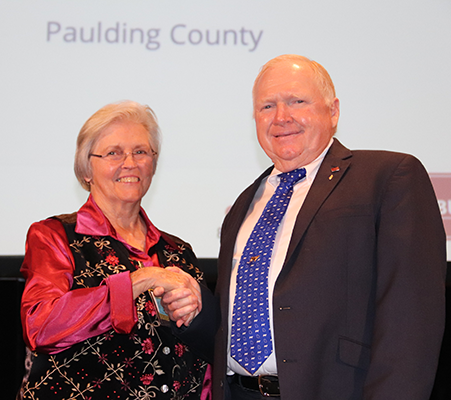 Paulding County Farm Bureau (PCFB) was recognized as one of the top county Farm Bureau programs in the state during the organization's 82nd annual convention held on Jekyll Island Dec. 8-10.
The county chapter was named a finalist for the prestigious McKemie Award - the highest honor that a county Farm Bureau in the state can receive - in recognition of the activities it sponsored during the past year to promote agriculture.
PCFB was one of nine county Farm Bureaus to be recognized as a finalist in the large membership category. Nora Goodman is the PCFB president. Franklin County won the award. Founded in 1937, the Georgia Farm Bureau Federation is the state's largest general farm organization with 158 county chapters. As a membership-driven, nongovernmental organization, GFB serves as the voice of Georgia farmers and rural Georgia by advocating for them on legislative issues and promoting Georgia commodities. Its volunteer members actively participate in activities that promote agriculture awareness.
GFB membership is open to the public and offers a wide variety of benefits, including insurance and discounts for health services, travel, and family entertainment. Enrollment in any of the member benefits is optional and not a requirement for membership. If you would like more information about agriculture please visit www.gfb.org, like Georgia Farm Bureau on Facebook @GeorgiaFarmBureau or follow on Twitter at @GaFarmBureau.
Photo: Georgia Farm Bureau President Gerald Long, right, congratulates Paulding County Farm Bureau President Nora Goodman on the county Farm Bureau being named a finalist for the GFB McKemie Award during the 2019 GFB Convention held Dec. 8-10 on Jekyll Island.